2021's Back To School season is in full swing across the United States, and with demand already surging now is the time for e-commerce retailers to kick their marketing into high gear.
According to the National Retail Federation, it is expected that households with children in K-12 will spend upwards of $37.1 billion this year, and households with college students will spend $71 billion, a nearly 10% uptick from last year.
(Source: NRF)
School and learning have certainly been different over these last couple of years because of the ongoing COVID-19 pandemic, but in 2021 it seems a mass return to the classroom is driving this increase.
In-person learning means product categories like apparel are getting a large boost this year, as well as continued technology needs for both entertainment and learning.
With that said, let's dive into 2021's top back to school trends in e-commerce.
Tech Spending Continues To Lead The Charge
Even with students returning to the classroom, tech gadgets are still the top source of sales in this years Back to School spending frenzy.
Year over year, there is expected to be a 37% increase in spending on technology items according to Deloitte's vice chairman and U.S. leader in retail and distribution, Ron Sides.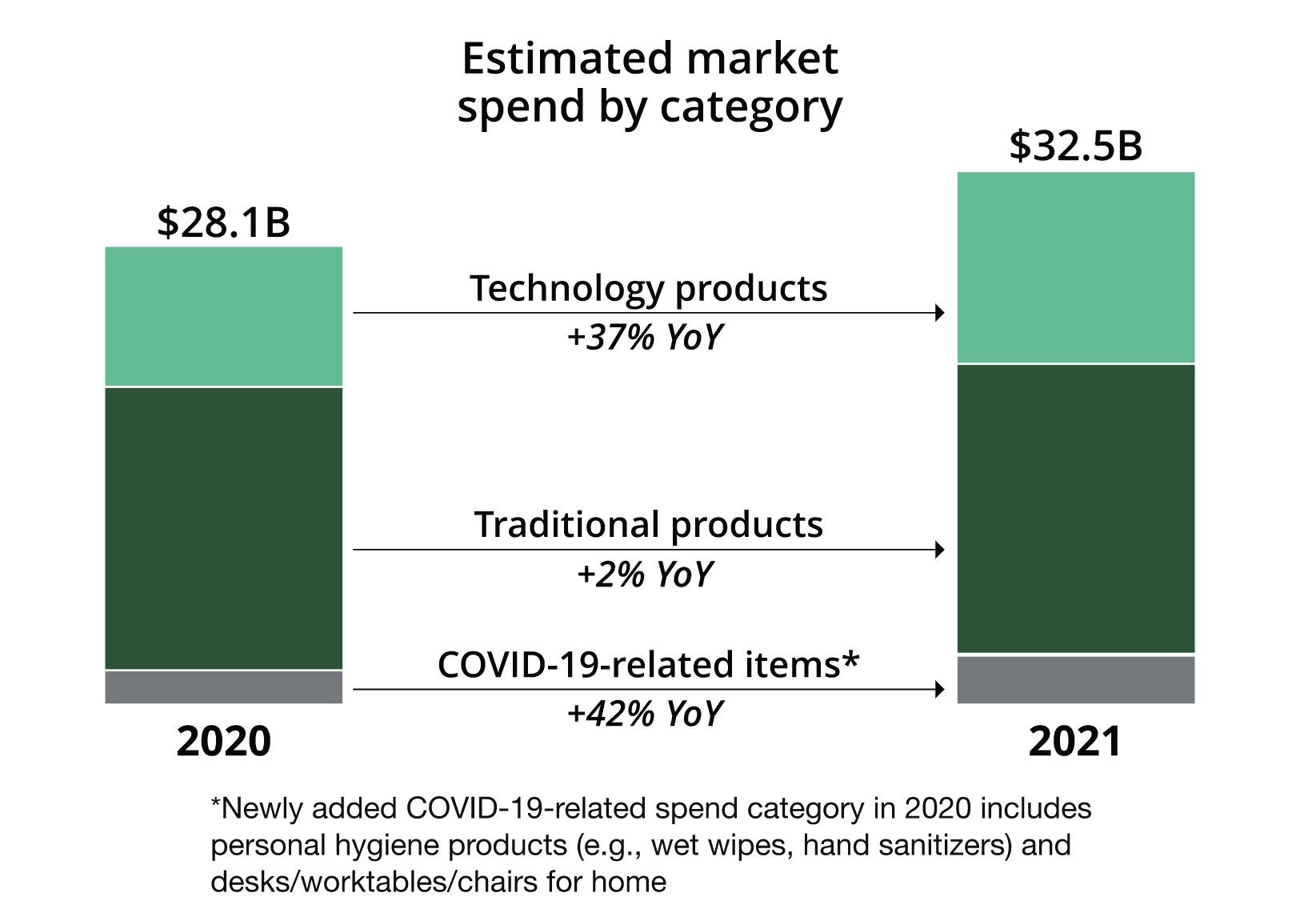 With technology products, such as phones, tablets and wearables, so deeply embedded in today's culture, now more than ever parents are feeling that these products are needed in order for their children to keep up with their peers.
Not only that, but laptops and desktop computers are needed for hybrid learning environments in which students are learning both in class and from home.
Device protection can't be ignored here either. According to a report released by Amazon, cases for consumer electronics are up 86% year over year thus far, a major increase by any standard.
E-Commerce Is Capturing More BTS Market Share
As with every other major buying time, e-commerce is eating up market share at a consistently higher rate each year with Back To School shopping.
To state the obvious, e-commerce got a major boost thanks to COVID, but even with brick-and-mortar stores being fully operational, nearly 50% of K-12 back to school spending will occur online. 43% of Back to College spending will happen online as well.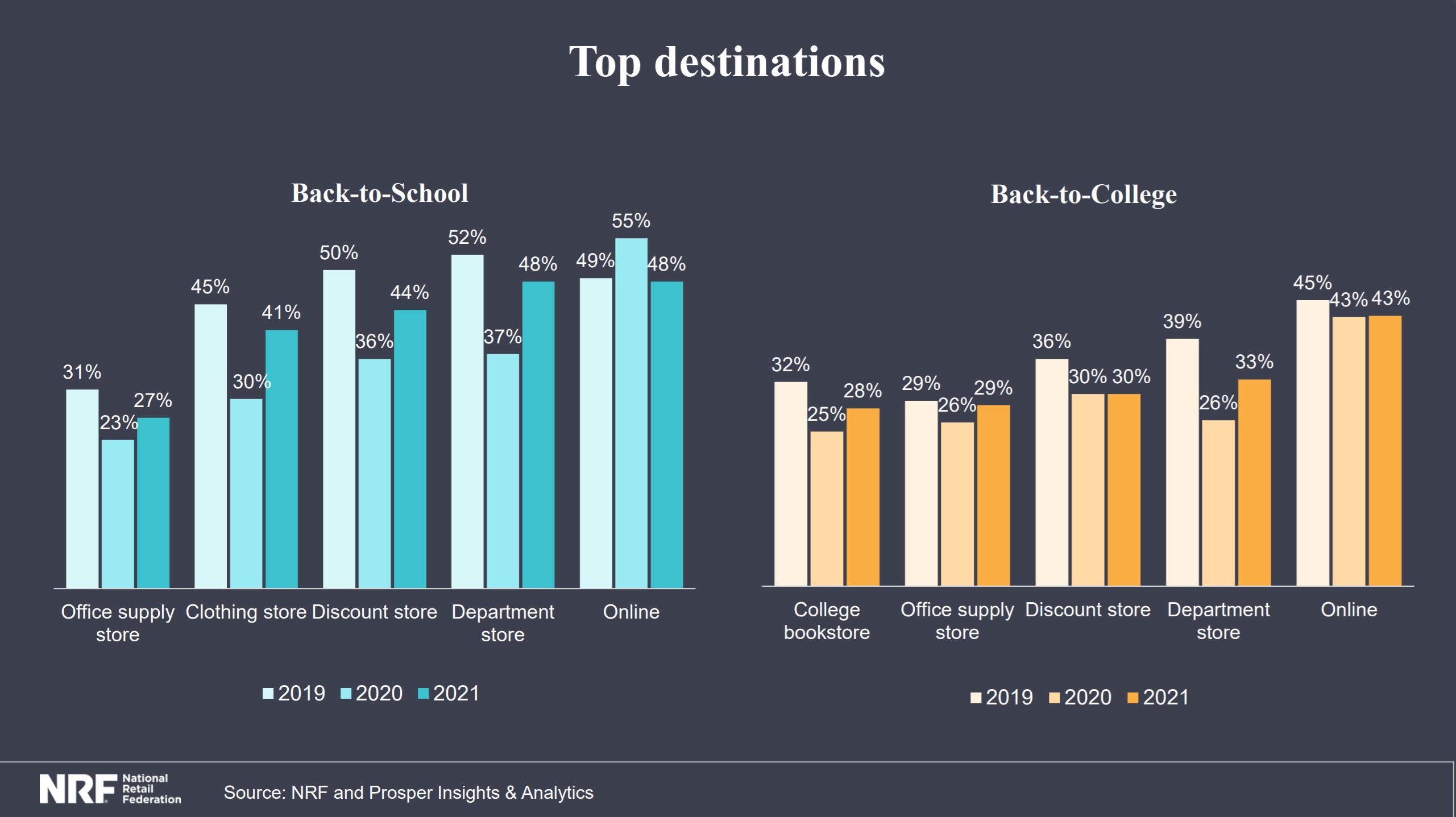 One additional factor to pay attention to here is the fact that the convenience of more online shopping means that the Back to School season is pushing back earlier than in years passed.
According to a recent survey by Deloitte, nearly 60% of shoppers questioned planned on having all of their Back to School shopping completed by the end of July.
This represents a fairly significant jump from previous years, and is partially due to concerns over whether or not items will remain in stock.
For e-commerce retailers, this should serve as a major clue for future buying patterns surrounding back to school supplies moving forward. Consider preparations for your push at the very beginning of summer.
Mobile Devices Remain Consistent
Much like the larger trend of e-commerce taking more market share, there has been continued growth of Back to School sales coming from mobile devices.
This should be no surprise considering mobile sales have been growing pretty much across the board nearly in lock step with e-commerce.
Mobile devices are expected to account for nearly 40% of e-commerce Back to School sales this year, a 10% increase from last year.
Within that subsect of online buyers, a Deloitte survey uncovered an interesting piece of data that should be noted as well. Of those using mobile devices to buy Back to School gear, 40% of them will be using voice assistants to find their products.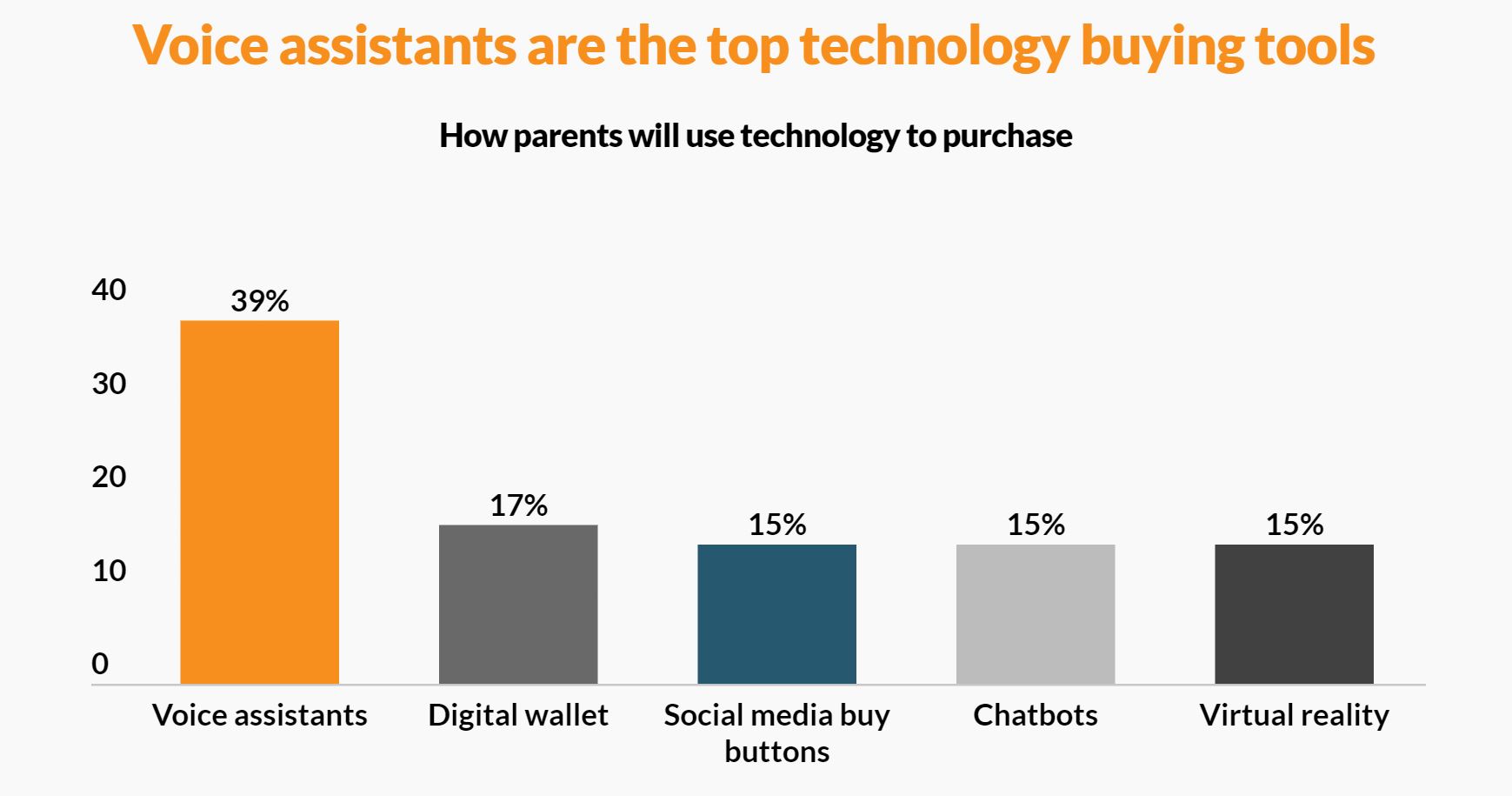 Once again, we see a hint at future behaviors that should be taken into consideration. How can you utilize this? Simply by understanding the way people are using these assistants to find their products.
Creating content on product landing pages or your website as a whole that closely resembles the way shoppers search via voice assistants will help make you stand out and get the impressions above the competition that may not be optimizing for this.
How E-Commerce Retailers Can Make The Most Of Back To School Season
There is a lot of preparation that should go into Back To School shopping season, much that will mirror a broader strategy for the not-so-distant holiday season as well.
Be Prepared To Offer Promotions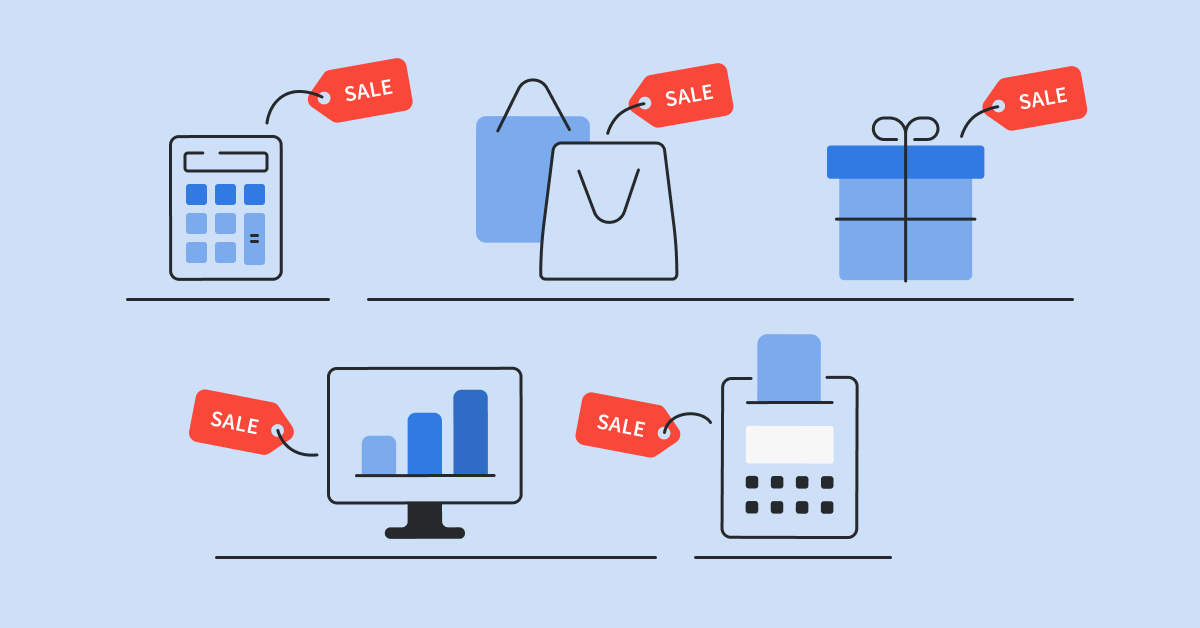 No doubt shoppers will be looking for the best deals possible for Back to School supplies, especially when shopping online. Keep in mind, a customer will likely make a purchase from you again and/or share the experience with others if they had a positive interaction.
So if that means offering a discount on items they are in need of now, they will likely return more than once to purchase again in the future.
Optimize Mobile Site Performance
With the surge in Back to School sales coming from mobile devices, you'll want to make sure your website is as optimized as possible for this busy time.
Fast load times are extremely important, and should be at the top of your list of tasks when optimizing.
Additionally, you'll want to work on creating content that is voice assistant friendly to help keep yourself current as technology continues changing shopping behavior.
Lastly, triple check your checkout process. The easier it is to checkout, the more likely you are to close that sale.
Stay Up To Date On Supply Chains
With the ongoing COVID-19 issue, there are still potential disruptions to be aware of. Be sure to remain in close contact with any suppliers so you can button up your stock while the going is good.
The last thing you want is to run out and miss potential sales.
Wrapping Up
The Back to School shopping season has been changing drastically for the last couple of years as everyone has learned to work with and around COVID. As in-person learning comes back, we've seen a number residual effects of the previous year.
E-commerce has continued to drive more sales for Back to School supplies each year, and 2021 is no different with nearly 50% of sales potentially coming from e-commerce.
Additionally, there has been a shift in what products people are spending their money on. Technology items are far and away the leader, as phones, headphones, tablets, laptops, and more have cemented their place into the learning culture.
As an e-commerce retailer the best thing you could do is prepare as early as possible, considering people are starting their shopping earlier. And with an ever changing shopping landscape, being present where you customers are couldn't be more important.