In recent years, Microsoft has taken major strides in improving their ad interface and delivery system, making it more user friendly, responsive and above all else, fresh. That's why so many digital marketers now consider the platform to be a can't miss when it comes to developing their strategies.
These UX investments by Microsoft have led to a number of positive developments, including seeing their US search market share increase to nearly 40% in a relatively short time and their number of unique users grow to nearly 120 million.
And to take things a step further, of those 120 million users, 44 million are not reached on Google.
To get started, let's take a look at some key information about Microsoft Bing, the people who use the growing search engine, what advertisers can do using the advertising platform and what the Microsoft Audience Network consists of.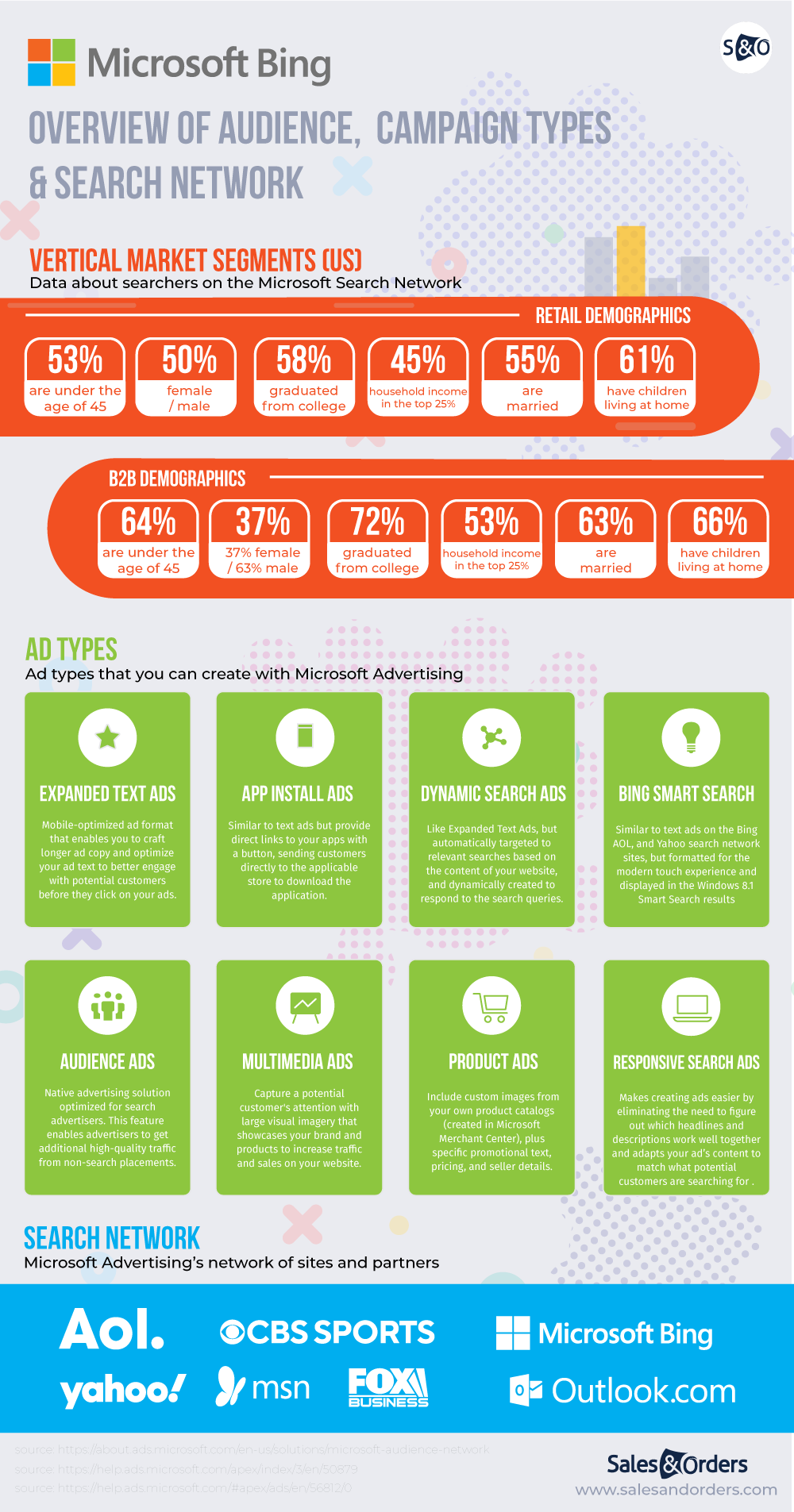 How to Start Advertising on Microsoft Bing
Getting your ads live in Microsoft Bing is very easy, and with the added ability to import campaigns over from Google there is a very low barrier of entry to get started.
If you're starting from scratch and have never had an account on Microsoft Advertising, you need to create one before you can build or import any campaigns.
Head to the Microsoft Advertising home page, and click "Sign up now."

Next, you'll be redirected to the set up wizard where you'll start inputting information about your business, starting with setting your advertising goal. As an eCommerce store, you'll select "Visits to my website," than input your business name and URL, and set your target location(s).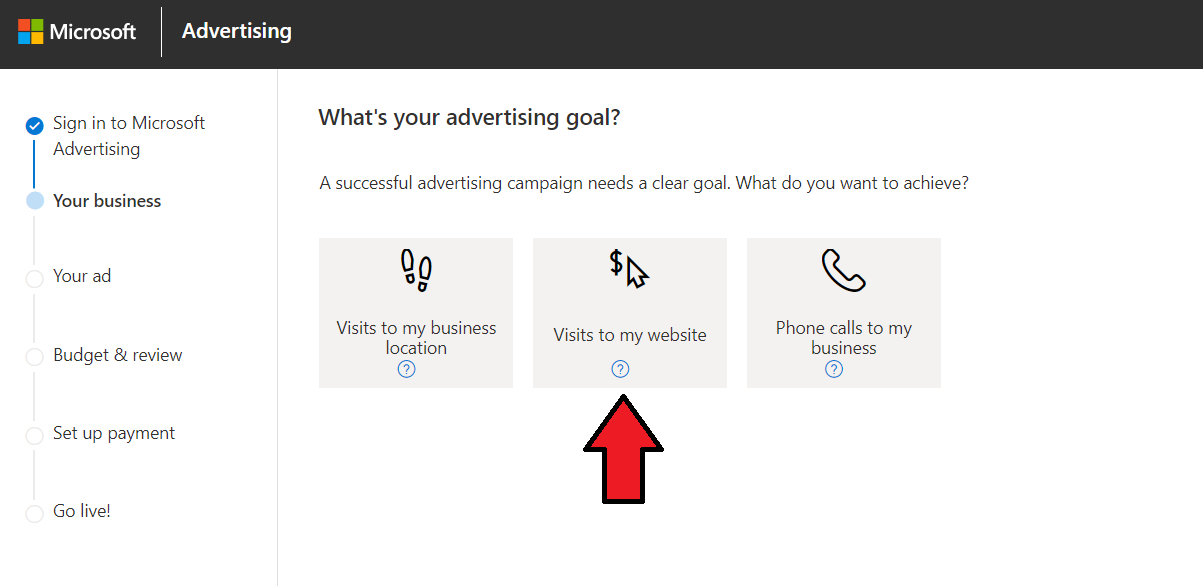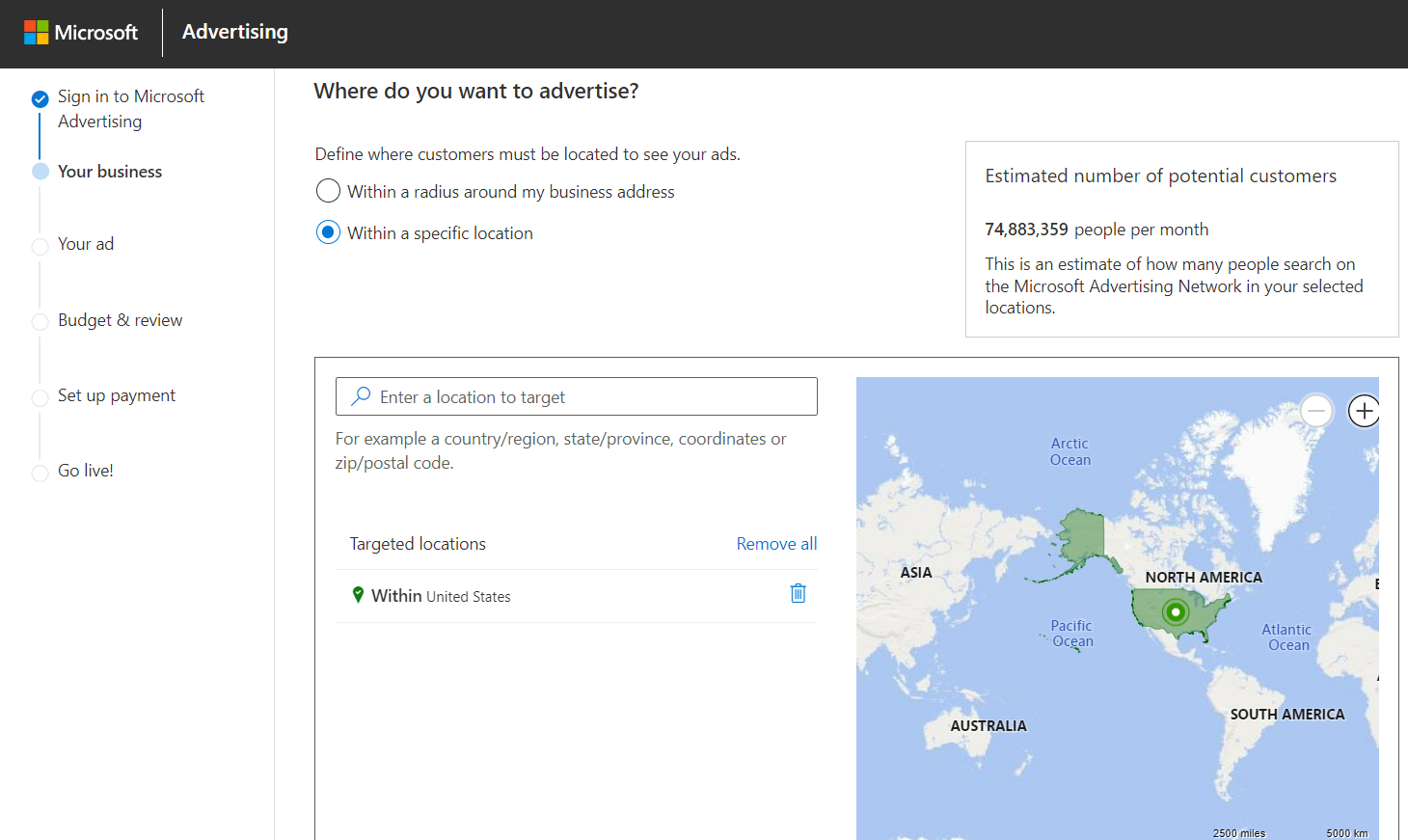 The rest of the wizard walks you through the process of creating your first Search ad (text ad). Keep in mind this is purely for set up process, and the ad can be paused once your account is completed and live.
There is also on-page Live Chat support and phone support available in Microsoft Advertising to help walk you through this.
And let this serve as a segue into the next section.
Types of Ads You Can Run on Microsoft Bing
Just like in Google, you are able to run several different types of ads with Microsoft Advertising. Let's go over each one and the advantages each can offer you.
App Install Ads
App install ads are ideal for those looking to drive traffic towards installing your app rather than your website. Since the nature of these ads is to direct to an app store, Microsoft automatically detects the device platform the searcher is using to direct them to the correct location.
These ads are available in Australia, Brazil, Canada, France, Germany, India, the UK and the US.
A few things you'll need handy to get started are:
Mobile operating system
App ID/package name
Link text
Link URL
From there, you're able to customize your ad to target certain demographics, keywords, and locations based on your desired results.
Additionally, advertisers only pay for app downloads, not clicks like other ad types.
You can read more about these ads via Microsoft Advertising.
Expanded Text Ad
These are your typical search ad, where you input your own custom headlines and descriptions and more information as it relates to your company/product.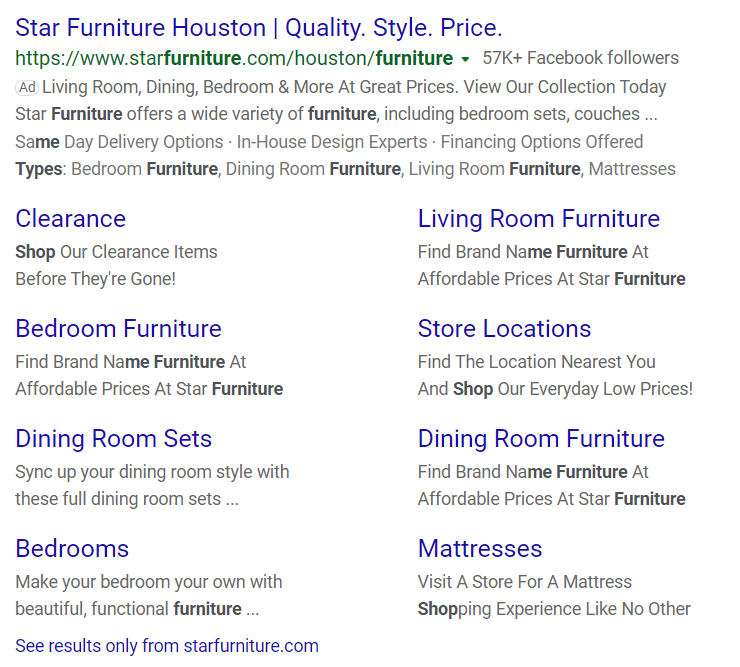 Getting started with these ads is simple, and they are effective for driving traffic to your site, landing page or product page.
In terms of targeting, you can set target keywords and assign CPC bids to them either manually or using an automated bidding strategy, such as Target ROAS.
Here is a little more on these ads from Microsoft Advertising.
Dynamic Search Ads
These ads appear in search results in the same form as Expanded Text Ads, but the way they are created is different.
As opposed to manually inputting the Headlines and Descriptions, Microsoft Advertising automatically fills these fields based on the copy found on your entire website or specifically targeted pages.
To run these ads effectively, you need to be sure that your website and landing pages are properly set up so the system can pull the copy it needs.
To create a Dynamic Search Ad, click the "Create Campaign" button on your Microsoft Advertising campaign dashboard, than select you campaign goal, Visits to my website for example.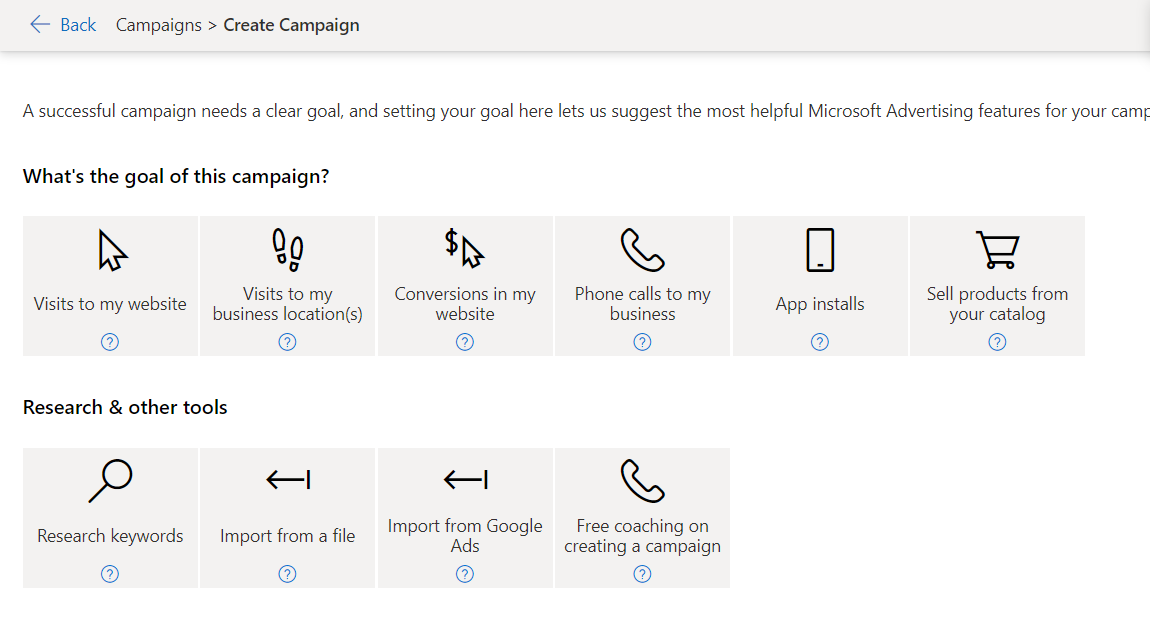 Next, you'll be asked if you want to create Search Ads or Audience Ads. Choose Search Ads, and you will be taken to the set up wizard.
An important step here to ensure you're creating a Dynamic Search Ad is to enable the setting. Scroll down the initial page of the wizard to find it, and enable it.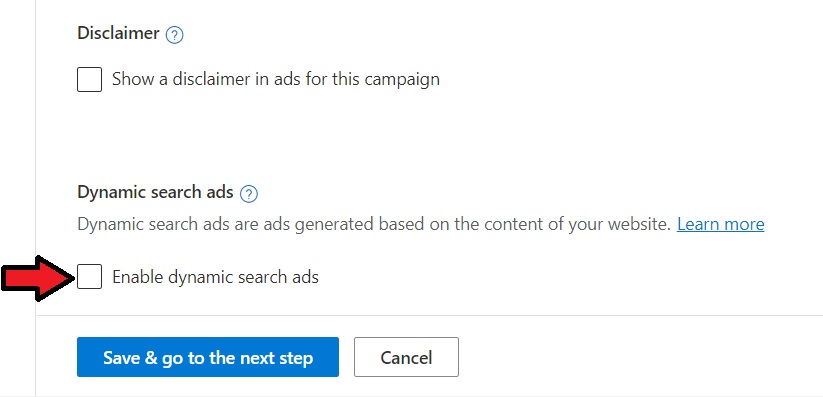 Bing Smart Search Ads
Bing Smart Search ads are similar to your Expanded Text Ads on the Microsoft Search Network, but formatted for the modern touch experience. For example, when possible, the Bing Smart Search ads will include a preview of your landing page as shown below.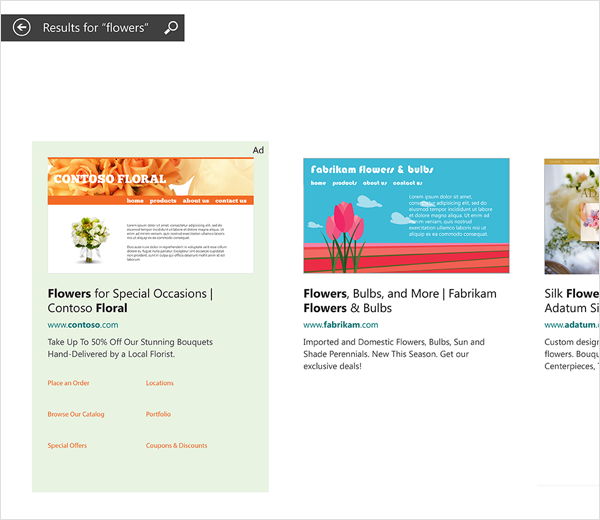 Creating these ads is very simple, as they use the same information from your Expanded Text Ads, but are displayed in the Bing Smart Search results, and include a snap shot of your Final URL landing page.
If you plan on running these ads, be sure to create strong landing pages since they will be featured as a part of it.
Microsoft Audience Ads
Microsoft Audience Ads are a native ad type that appear across the Microsoft Audience Network of search partners, including MSN, Microsoft Outlook, CBS Sports and more.
Setting up Microsoft Audience Ads is quite simple, and grants you freedoms to create audience based on a number of key demographics, including targeting LinkedIn users by their job title, company they work for or industry they work in.
There is a short list of content requirements that include headlines and different size banners, but the rest is automated based on your audience targeting and industry.
Multimedia Ads
Multimedia ads utilize large visual imagery that showcases your brand to capture the attention of searchers across Microsoft Bing.
Combining a variety of different size images, CTAs, headline copy and extensions these ads appear on the sidebar and mainline ad position and are meant to drive more awareness for your website.
You are even able to edit images using the Microsoft Advertising platform, which is a very unique feature. You can add in designer effects, background blur and even background color to your imagery to make it even more enticing.
You can also advertise your product catalog with this ad type, as long as you have an active product data feed.
Product Ads
Product ads, or Shopping ads, showcase products from your eCommerce store in search results.
To create these ads, you'll need to have an active Microsoft Merchant Center Store and verify/claim your websites URL.
Once this is set up, you'll need to create a product data feed that meets Microsoft Advertisings specifications. Feed tools, like the Sales & Orders Product Data Feed Tool, can help you easily get your products live.
Additionally, if you have active Google Shopping Campaigns, you can import them straight into Microsoft Advertising for maximum convenience.
Responsive Search Ads
Responsive search ads are nearly the same thing as Expanded Text Ads with one major difference. Rather than inputting one 3 headlines and 2 descriptions per ad, you can set 15 headlines and 4 descriptions.
This allows Microsoft Advertisings' system to create hyper-relevant ads using any combination of your copy. So now rather than creating several ad variations, you can can create just one ad with many different options and the system will create the best ad based on the users search term.
What's more is the system will learn which combinations work the best and which ones don't work so well and adjust accordingly.
Tips For Successfully Managing Microsoft Bing Ads
Creating an account and your first campaign is just the start in your digital marketing journey with Microsoft Advertising.
To truly see success, ongoing management and understanding of campaign optimization are vital.
Here are a few quick tips for managing your campaigns that can apply to nearly all ad types.
Take Advantage of the Import From Google Tool
This can be emphasized enough. If you have campaigns that are already seeing success through Google, you should bring them over into Microsoft Advertising. Doing this is super easy in the interface.
First, click on "Import" on the top menu of the screen, than "Import from Google Ads."

Next, you'll be prompted to sign into your Google Ads account. This will establish the connection between Microsoft and Google.

From here the wizard will walk you through selecting your campaigns and settings you wish to import into your new Microsoft Advertising campaign. You can adjust pretty much all the settings, including lowering keyword or product-level bids and even your daily budget.
Narrow Your Targeting
There are many ways in the Microsoft Advertising interface to hone your target audience so you can stop wasting ad spend and see a better return on ad spend.
Set an ad schedule
You can adjust the times, days of the week or both that you want your ads to show with ad scheduling.
If you navigate to the left side menu in your Microsoft Advertising account, you'll see the option as shown below.

Click on "Add Ad Schedule" to get started. By doing this, you can reduce your bids during off hours so that you can save your ad spend for the busier times of the day.
Adjust Your Device Level Bids
Ads in Microsoft Bing are served on three main device types:
Computers
Smartphones
Tablets
Reviewing this data allows you to make a decision on whether or not to reduce spending on a certain device type. If you're seeing high ad spend on smartphones, for example, you would click on the number listed next to it under "Bid Adjustment" and change it to a negative number.
Review Location Data
You're also able to make bid adjustments on specific locations within your target country.
So, for example if you're targeting the US you could review data and determine if you want to exclude certain states or cities from receiving impressions in your campaign.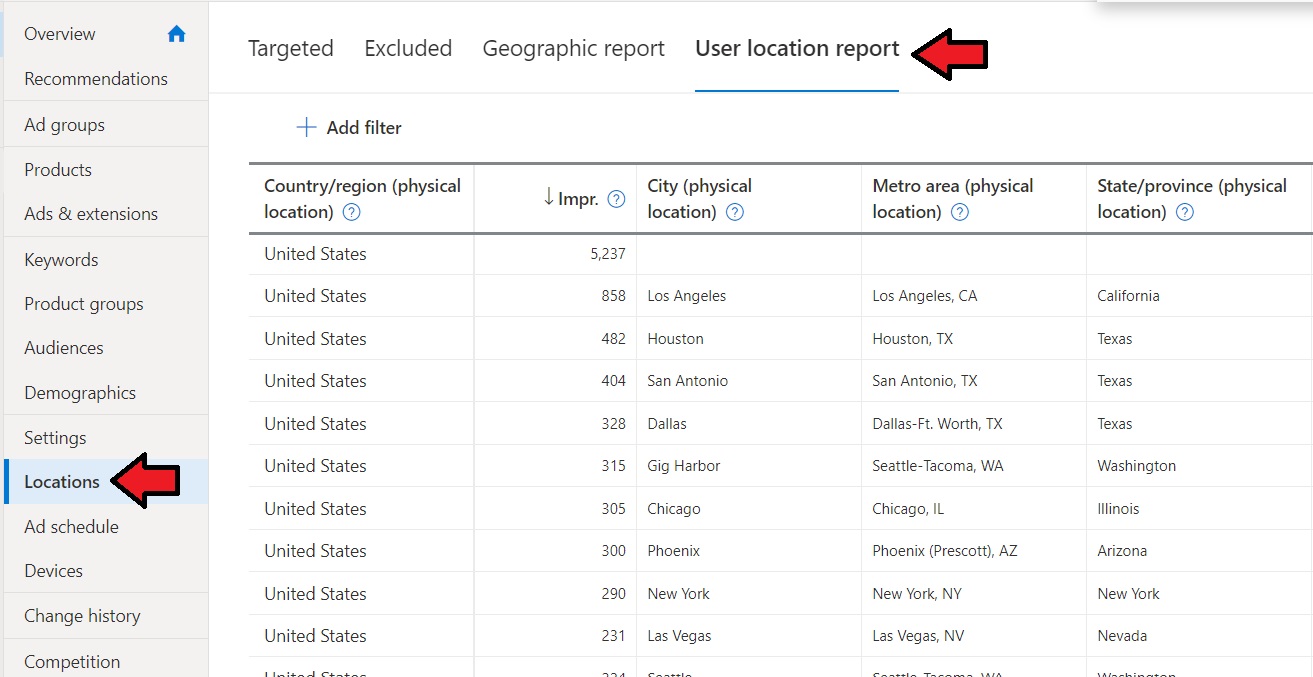 Wrapping Up
Microsoft Advertising has come a long way over these last several years, and has opened up major opportunity for digital marketers looking to expand their reach or simply start a new strategy.
With rapidly a increasing market share and user base, there are a lot of potential benefits to getting started with campaigns on the Microsoft Bing network.
This is only scratching the surface of what you can do in the platform, and more innovation is in the works seemingly every month.
How Sales & Orders Can Help
The Sales & Orders platform is equipped to help eCommerce retailers get their product listings live in Microsoft Bing Shopping.
Our product data feed tool quickly builds a compliant feed and submits it to your Microsoft Merchant Center for approval.
And once that is approved, you're easily able to create and manage campaign with our Shopping ads manager, all in the same platform.
Getting started is easy, and new accounts get a 15-day free trial period! Start your trial by clicking below.
{{cta('5912cb23-3bd9-4550-a8e2-ad679724f0a3′,'justifycenter')}}