News has just rolled in that Google will be loosening the restrictions on getting started with setting up Smart Shopping Campaigns through Google Ads.
Advertisers and merchants are beginning to receive an email from Google Ads stating that as of October 31st 2020, Smart Shopping Campaigns in Google Ads will no longer require either Conversion Tracking or Remarketing Tags to get started.
Here's a copy of the email: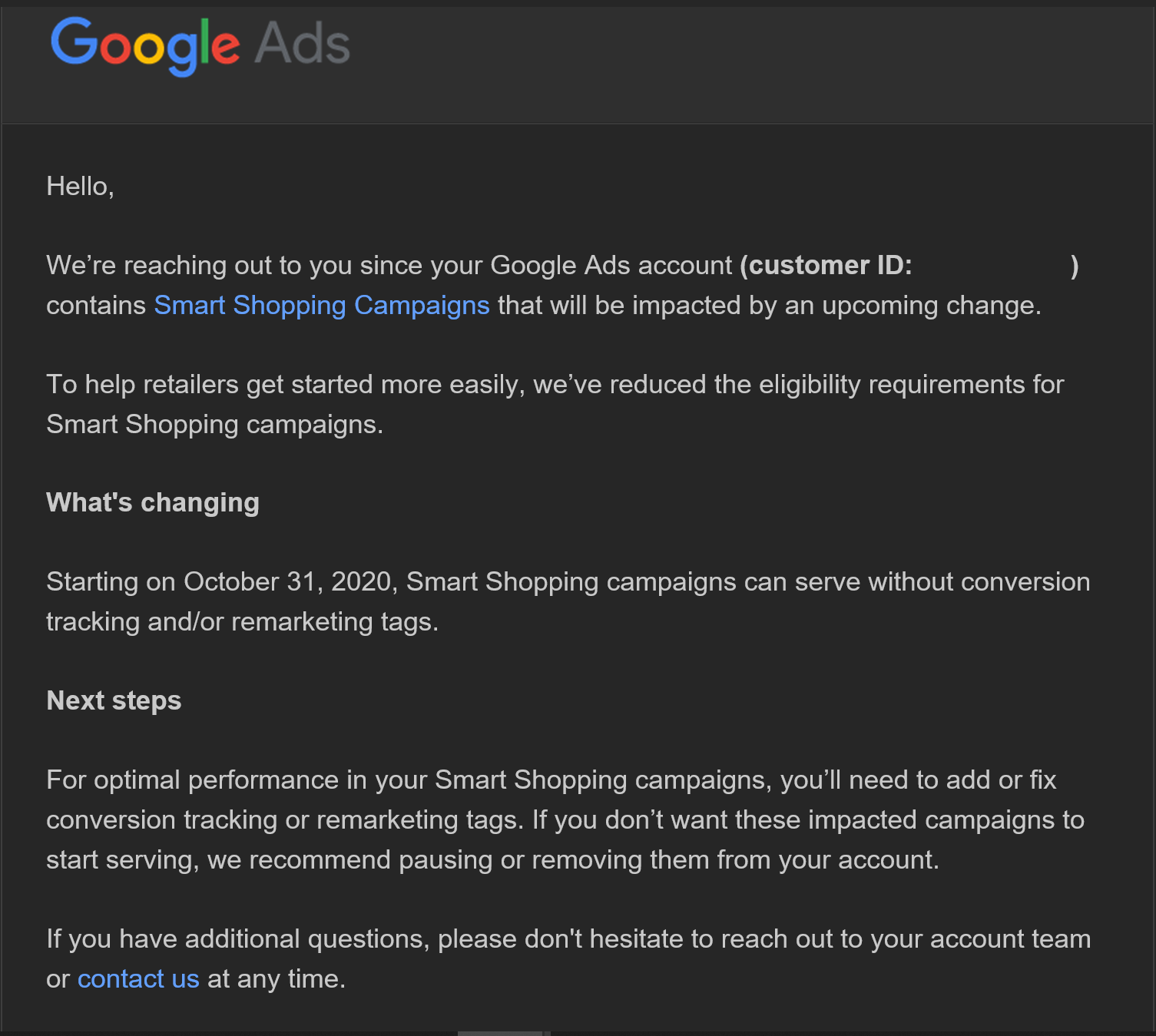 This could be greatly beneficial for smaller sized ecommerce businesses leveraging Smart Shopping Campaigns through Google Ads.
Often we see where these businesses are not seeing enough of an audience size as recorded by their remarketing tags to get Shopping Ads served.
What are Google Smart Shopping Campaigns?
Google turned heads quite a bit when they released what are essentially Shopping Campaigns on full auto-pilot mode.
Smart Shopping Campaigns leverage Google's Machine Learning to automated just about everything from bidding to targeting and even ad scheduling (day parting).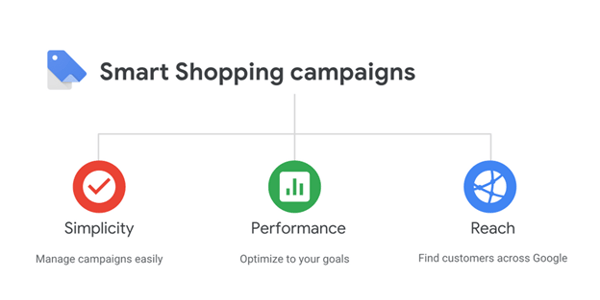 Prior to today's announcement, Smart Shopping Campaigns required both Conversion Tracking and Remarketing Tag implementation for one's ecommerce website to be able to run.
Looking forward to the end of October, merchants who are just getting started with these campaigns will have a bit of an easier time doing so.
At the tail end of 2019, Google VERY QUIETLY rolled out Item ID subdivision for Smart Shopping Campaigns – making it so that advertisers and merchants could get even more granular for performance analysis.
Why the change for Smart Shopping Campaigns?
As we have seen over the course of 2020, the coronavirus pandemic has fueled tremendous growth and positive change at Google for ecommerce merchants.
This is yet another step in a long line of enhancements to help store owners get started with Google Ads faster and with far less friction.
BUT, that does not necessarily mean that merchants or advertisers should set up campaigns WITHOUT these components.
Conversion Tracking – A No Brainer
So, while it may seem tempting to just start creating Smart Shopping Campaigns when you wake up on November 1st, doing so without conversion tracking is simply setting yourself and your business up for disaster.
Point blank: conversion tracking is how you'll know whether you are making sales or not!
Most ecommerce merchants should rely on Google Analytics conversion tracking through Ecommerce settings. This is because it relies already on your Google Analytics Tracking ID, and the code customization needed to ensure you can track sales properly is actually quite easy to implement.
Here's a quick guide with step by step instructions for not only configuring your UA tracking code but also importing the conversion action in Google Ads.
Don't skip this!
Remarketing – Still Important
Granted, there are some exceptions here but few and far between. Those who sell medical supplies or equipment are already barred from remarketing through Google Ads.
"Everyone else," however, should still set up Remarketing the implement a Google Ads Remarketing tag.
They key element here is that it is NO LONGER to be required to have your remarketing tag to get started with Smart Shopping Campaigns.
That can be both a blessing and a curse for some. There are many smaller businesses, for example, that do not see enough consistent traffic to get their remarketing audience numbers up.
Here's the breakdown on audience size requirements for the two main Google networks:
Not having your remarketing tag set up may get you started with Smart Shopping campaigns sooner, but then you sacrifice:
Building your audience over time so that remarketing can be served to previous visitors
More conversions and sales at a typically lower cost to convert from remarketing
Set it up, don't set up – its up to you. Ultimately though, you can get your Smart Shopping Campaigns created and get them running and then worry about your remarketing tag later when you have the time to focus on it – or when you can nail down your web dev to get the code implemented.