E-commerce continues to revolutionize the way people shop, and with each passing year it seems there is a new trend or innovation that makes it even better. Some fade with time, but that doesn't appear to be the case for Buy Now, Pay Later solutions which have their sights set on driving $100 billion in sales in 2021.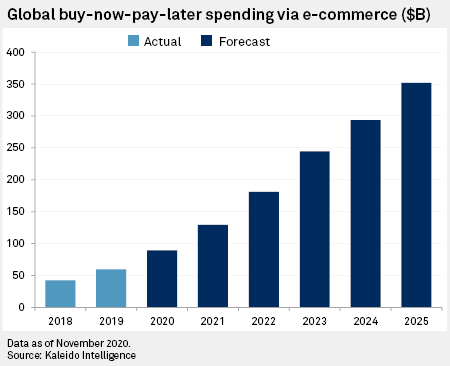 This simple fact should give e-commerce retailers all the more reason to consider adding this financing option to their checkout page and overall marketing strategy.
At the end of the day, your focus should be making it as simple as possible for a shopper to checkout. This means offering several different options for payment outside of the typical credit card form, i.e. ApplePay, Samsung Pay, and an installment option aka Buy Now, Pay Later.
Let's take a deeper dive into the growing payment trend and how your e-commerce business can benefit from it.
What Is Buy Now, Pay Later?
This financing trend isn't an entirely new concept, though this iteration of it is unique to the current technologically reliant era we are currently in.
Buy Now, Pay Later is very similar to it's "layaway" predecessor in the sense that consumers purchase a product and pay it off over multiple installments.
There are a few differences, though, such as the customer getting the product right away rather than having to wait to pay it off to get it, and the payments typically aren't going directly to the store.
Unlike store credit or layaway in which the retailer have to rely on a bank for credit and funds, they just need to connect with an AfterPay or Klarna type consumer financing company to grant their customers with lines of "credit."
Why Buy Now, Pay Later For E-Commerce?
There are many built in benefits of incorporating a Buy Now, Pay Later solution to your e-commerce store.
Not only are you able to potentially close more customers across all age and income demographics, but you're also improving upon the user experience once they've landed on your product page by making checkout simple.
More than 45 million people in the US will use a Buy Now, Pay Later service in 2021, up over 80% from last year.
Of this group, the largest percentage is Gen-z followed closely by Millenials. Combined, these two demographics will make nearly 70% of all BNPL purchases, with increases expected in the coming years.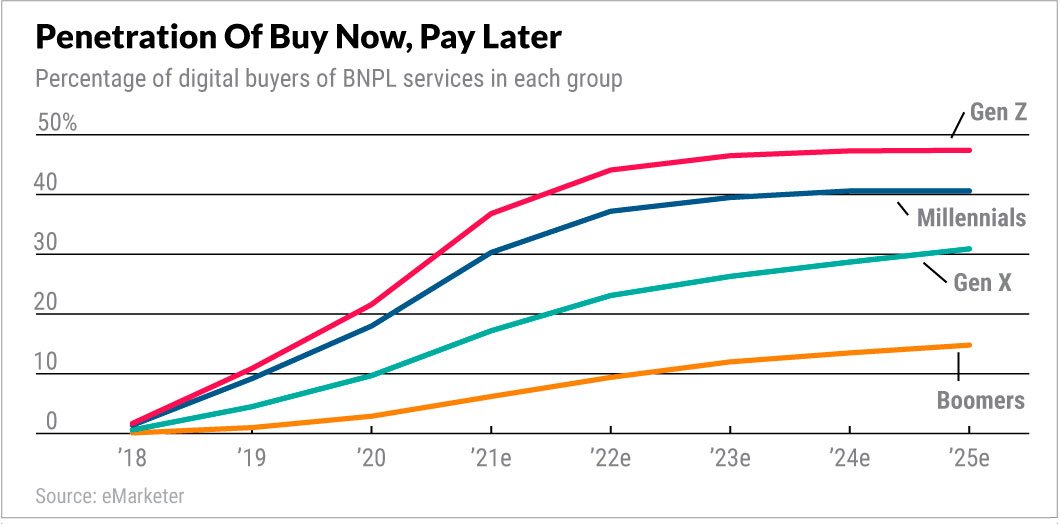 This usage trend lines up with the fact that many of the younger generation have limited access to credit. BNPL grants them access to "borrowing" that they may not have had before, and is typically very low or 0% interest.
And even though their usage is the lowest, we saw Boomers usage of BNPL increased by nearly 100% YoY.
BNPL Can Help Your Bottom Line
Growing usage amongst consumers can only mean one thing: more sales. And Buy Now, Pay Later certainly isn't slowing down anytime soon.
What we're seeing is more people willing to purchase higher ticket items sooner than they would be willing to if they had to pay full price immediately.
In fact, retailers are seeing an upward of 30% increase in average order value over the last year after implementing a Buy Now, Pay Later solution to their checkout.
Additionally, the average last purchase amount of participants in a recent study was $689.

For reference, the benchmark average order value for e-commerce sites in 2020 was just over $100 per order.
Higher order values will ultimately lead to better return on your investment, especially advertising on Google Shopping or Bing Shopping.
Retailers should consider a strategy for optimizing their shopping ads to drive more traffic towards higher priced items they can offer the financing option for.
Buy Now, Pay Later Takes On Credit Cards
There are a number of glaring differences between BNPL solutions and credit cards/banks, namely interest rates.
Most Buy Now, Pay Later solutions offer 0% interest across the board, though some will vary depending on the product type you're buying and creditworthiness. This is a major deviation from credit cards, which may offer a 0% interest promotion at sign up, but eventually will charge up to 30%.
This is the largest draw for shoppers looking to skip out on the fees, and has led to a growing sentiment in which nearly 50% of BNPL users say they are willing to spend 10-20% more than if they used a credit card.
Skipping out on interest is just one of several main reasons why shoppers opt for a Buy Now, Pay later solution over a credit card.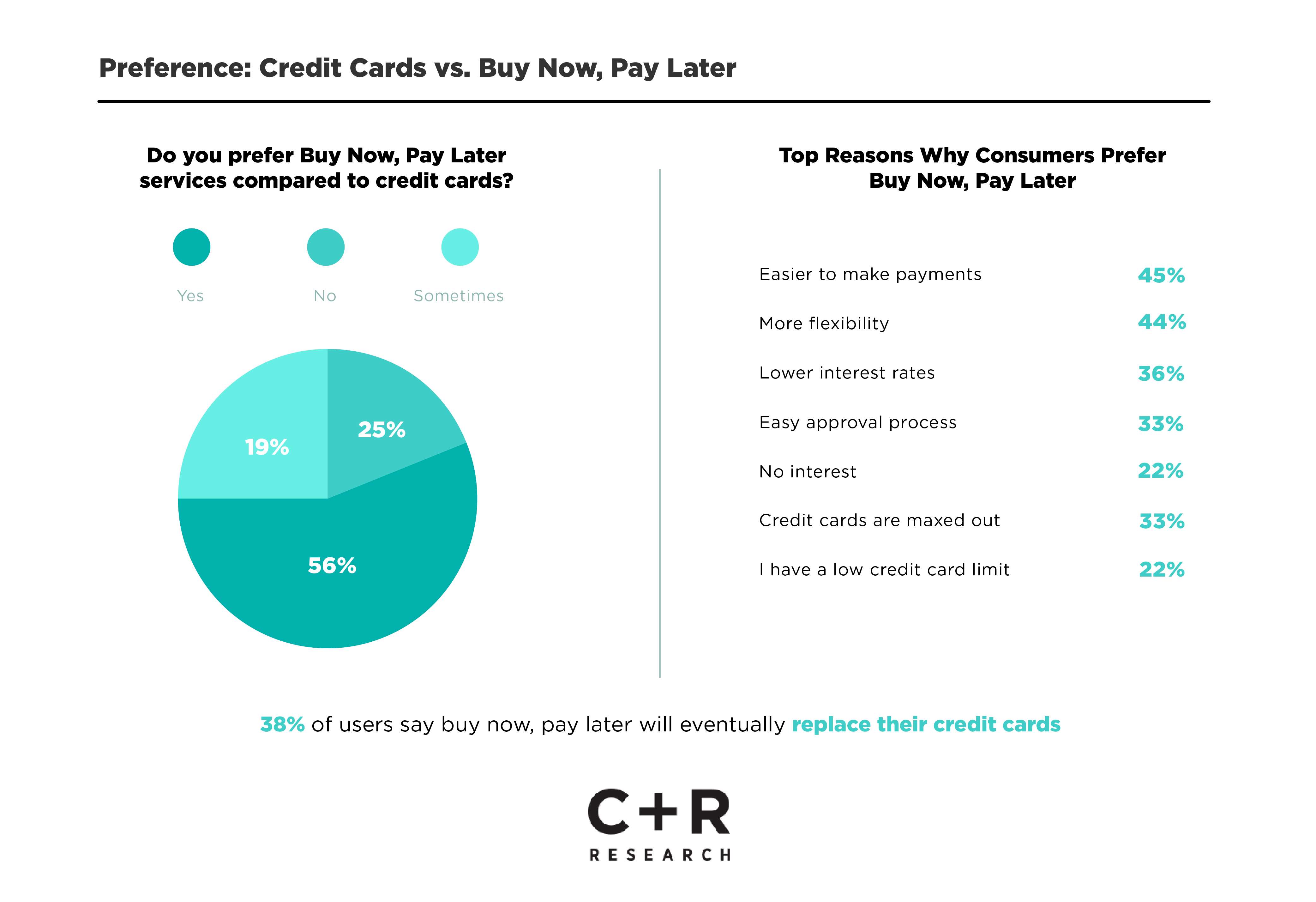 There's also a growing segment of shoppers who have no credit cards at all. A recent study by The Ascent found that 67% of Millenials don't have any.
As you could imagine, credit card companies such as Visa aren't taking this lightly have begun planning to take on BNPL with their own iterations.
Visa has developed Visa Installment Solution, in which its partnering with a number of other finance firms to offer its own Buy Now, Pay Later solution.
This is only the beginning of what is sure to be an interesting series of developments as the landscape keeps changing.
Top Buy Now, Pay Later Solutions
As the popularity of Buy Now, Pay Later has increased among consumers, more players have emerged in the growing marketing of financing providers.
There are still a few big names standing tall at the top, i.e. PayPal, Affirm and Klarna, but increased competition has been driving more options into the fray.
This rise in BNPL solutions has created even more opportunity than ever for e-commerce retailers to offer financing to their customers.
Wrapping Up
There's a lot for e-commerce retailers to love about Buy Now, Pay Later solutions, including encouraging higher average order values from those who may not have purchased without the financing option.
With the landscape continuing to change and with the eruption of more solutions than in years past, the opportunity to take advantage of the many benefits Buy Now, Pay Later offers are abound.
As with any major financial decision, retailers should do their homework, of course, and find the best option for their individual situation.