Hey merchants! Heads up: if you are currently selling your products via Buy on Google (Google's native checkout right on Google Shopping) then you NEED to log into Google Merchant Center and provide more business information as a result of the Arkansas Online Marketplace Consumer Inform Act going into effect at the end of July 2021.
Google will now require the collection and verification of additional business information from merchants already selling on or looking to onboard to Buy on Google.
The Arkansas Online Marketplace Consumer Inform Act which was introduced in early March of 2021 seeks to require the disclosure by online marketplaces to better inform consumers. The act also looks to curtail organized retail crime through new regulations passed down to online marketplaces.
You can actually rad through the entire bill itself here!
Buy on Google is technically considered an online marketplace by definition so Google too must come under compliance.
Emails from Google Merchant Center support have just started rolling in, and merchants should move quickly to meet the new requirements – less they wish to have their Merchant Center accounts suspended: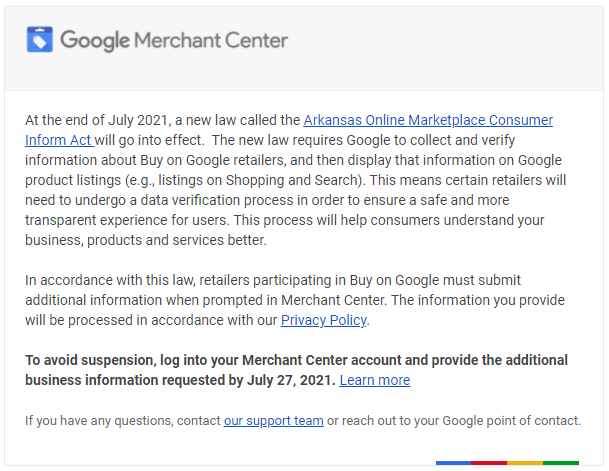 Merchants can also review additional details on Google's Merchant Center help doc found here. The list of required new information will be found when logging into Merchant Center:
Sign in to your

Merchant Center account.
Click the tools

icon.
Under "Tools," click

Buy on Google setup.
Enter the required information.
Avoid the Suspension
As we are fast approaching the end of summer, merchants are likely already thinking about and planning ahead for the fall rush – namely Labor Day weekend and future dates such as Black Friday and Cyber Monday.
While this dates are still some time now in the future, one of the worst things to have happen when selling on Google (whether it be by Free Product Listings, Shopping Ads, or Buy on Google) is to wind up with a Merchant Center account suspension.
This one might be easier to solve than others, but why risk it anyway? If you are selling on Buy on Google then RIGHT now is the time to come under compliance.
The deadline is 7 days away. DON'T WAIT!