Though we have seen and heard about how the ecommerce sector is barreling towards the future at record speed, the latest reports suggest that it is pacing even faster than previously imagined.
Shopify's CEO Tobi Lutke had indicated back in May 2020 that the impact of the coronavirus pandemic and continued spread of COVID-19 on the ecommerce industry was looking like a "warp speed" push into the future.
He certainly WAS NOT wrong when he said that.
And we have seen that throughout the year as tech giants such as Google have accelerated future plans of stretching their ecommerce arms with new products and features benefiting both merchants and shoppers alike.
The launch of Facebook and Instagram Shops have taken the social commerce or s-commerce world by storm practically overnight.
Bing is now Microsoft Bing and, just a few months ago, Microsoft launched its own version of Free Product Listings that would surface on the Shopping tab.
And, we're just getting started!
eMarketer: (US Ecommerce 2020) X (2) = WHOA!
According to a report published on October 12th by eMarketer, US retail ecommerce sales grew by 32.4% from 2019 to 2020:
Although the top 10 retail ecommerce entities (such as Amazon and Walmart) are likely to comprise over 63% of that value, the growth vector itself is simply astounding – but not all-too surprising with how the global pandemic has shifted both merchant and shopper behaviors in many ways.
If you are like me then you've been following these eMarketer charts for years. Taking a look BACK, this same chart looked entirely different just a few years ago:
In the current model you can see that US retail ecommerce sales NOW in 2020 exceed that of the older model by nearly $130 billion – a disparity of 18.85%.
Although the current predictions for years to come scale back to the normal range, there truly is no telling what to expect.
Google: Online Shopping Behavior Up 188%
I just had the pleasure of hosting our Google Account Manager Meredith Hall on our most recent webinar.
You can catch the full stream below:
Meredith at one point cites other sources that echo a similar model as eMarketer, but what is most interesting is Google's own internal data that showed that online shopping behavior has increased exponentially as a result of COVID-19.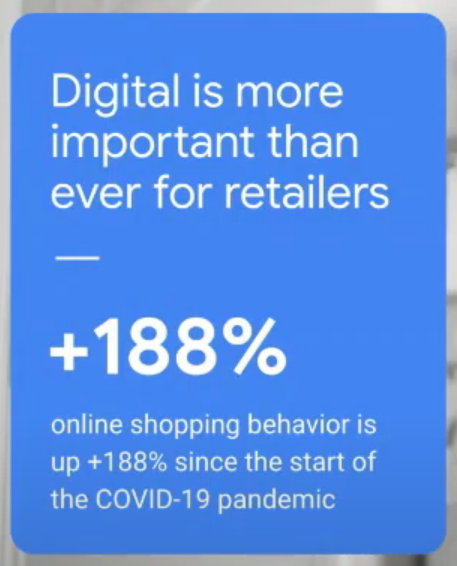 This highlights just how important it is for ecommerce merchants to focus more heavily on reaching shoppers on channels such as Google – especially now that merchants can leverage not just paid, but also free-to-play programs released just this year in 2020.
Shopping Ads, Free Listings, Buy on Google – though the core of a merchant's efforts on Google, one mustn't forget about weaving in Search Ads and Dynamic Remarketing where appropriate to work towards capturing the long-tail and previous visitors (respectively).
Microsoft Advertising: S&O Merchants Grow Revenue by 40%
As we have just only pioneered a new, fast-tracked onboarding wizard for Microsoft Advertising and Merchant Center within Sales & Orders, we aim to help even more merchants take advantage of search engine marketing initiatives such as Shopping Ads which surface on Microsoft Bing.
Looking back over the course of 2020, we do see how the pandemic has shifted that particular landscape. Between February and September, merchants using our platform collectively drove 40%
more revenue with Microsoft Shopping Campaigns.
Why invest in Microsoft Advertising for your ecommerce business? Check out Part 2 of our 3-part series with now Director of Partner Development for the Americas at Microsoft Advertising – Mauricio Orantes:
Learn a bit more about how one of our honored merchants Santa Barbara Chocolate achieved sweet success with Microsoft Advertising and Shopping Campaigns.
The Great Ecommerce Equalizer: Holiday Selling
As exciting as this all is, we're still just about a full quarter out from the end of 2020, and at the very precipice of the holiday selling season.
What can we expect? Some of our predictions:
Shoppers will begin their journey sooner than ever before
Deals will remain live for longer than previous years
Exponential growth as compared to 2019
Forbes reported that, in 2019, Cyber Monday alone saw a record setting $9.4 billion in sales from top US retailers analyzed by Adobe Analytics.
It stands to reason that, by referencing eMarketer's reports and models, 2020 will see this number grow by as much as 30% or more.
Ecommerce merchants should take heed on this data:
Be there, or be nowhere!