As of April 1st 2021, Showcase Shopping ad groups will quite literally be disappearing from Google Ads. However, the layouts once generated by them will merge directly into standard Product Shopping ad groups.
Wow, that was a mouthful wasn't it? Though not the easiest change to Shopping campaigns and to explain, the change itself isn't all too complex when you break it down.
Essentially, emails are starting to roll in from Google Ads as they announce that Showcase Shopping ad groups are "going away" – but really only from technical standpoint. Here's the core excerpt in that email: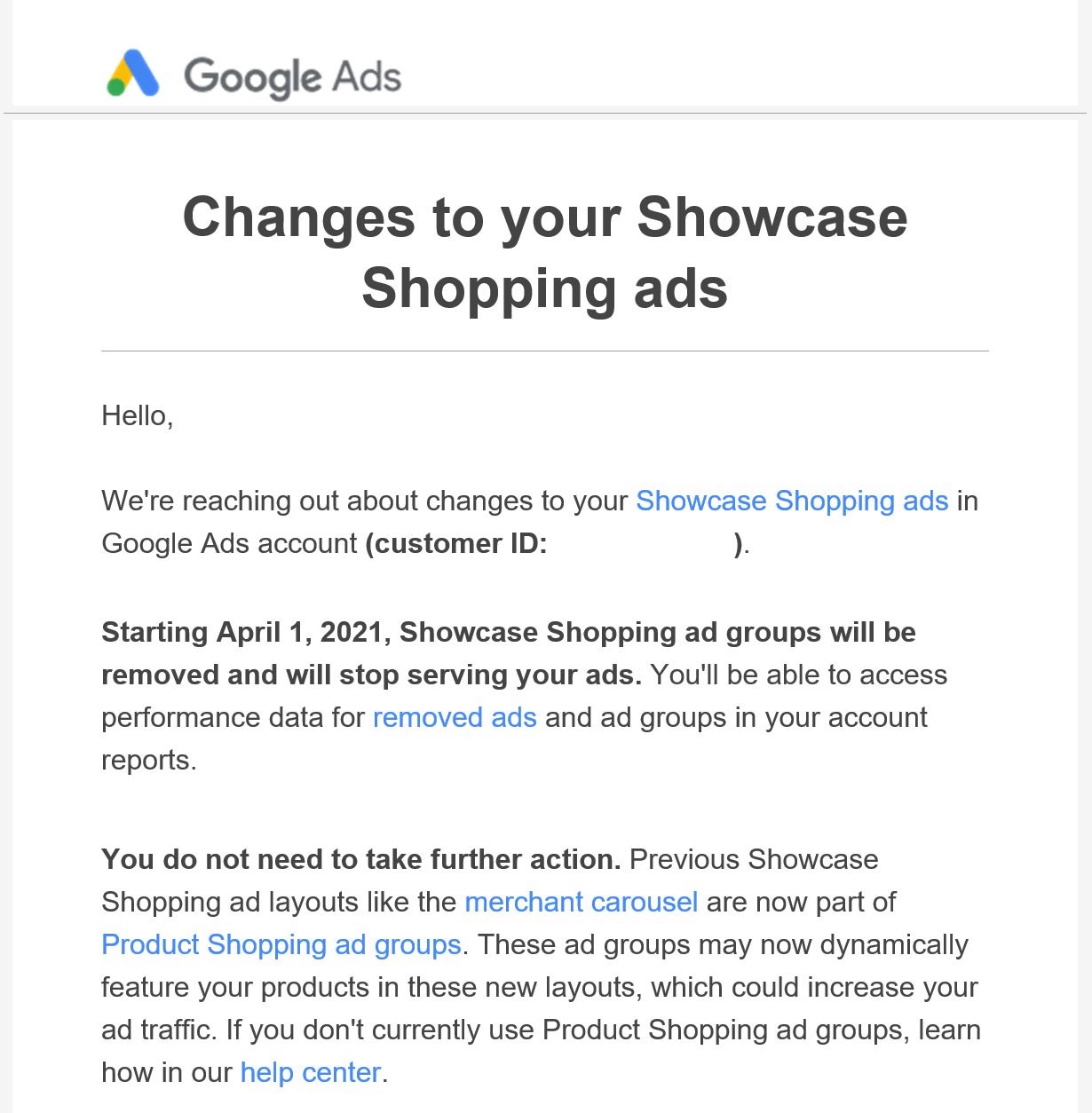 As of April 1st, standard Product Shopping ad groups (the one's we all know and love) will be able to display products on Google in the unique formats like the merchant carousel that will have once been exclusive only to Showcase Shopping ad groups.
Yeah, still pretty complex right? Let's try again.
What "Were" Showcase Shopping Ad Groups
For starters, Showcase Shopping Ads was a new type of ad group that was ever so silently introduced back in 2017 and were only found in the New Google Ads experience:
As opposed to Product Shopping which were and are ad groups meant only to display the more traditional "single unit" product ads one would most commonly see across surfaces such as Google Search, Images, and Shopping – Showcase Shopping ad groups delivered ads in "fancier" formats but also required more work on the part of the merchant or advertiser as additional information had to be provided:
The goal, however, was to generate product ads that could quite literally "Showcase" multiple products all at once and/or provide more rich information for shoppers. Here's some older copy from the release:
What Happens On April 1st?
Based on Google's email, merchants and advertisers will simply no longer have the option to create Showcase Shopping ad groups.
Ultimately, it looks like Google Ads may have invested enough time into Machine Learning to allow for standard Product Shopping ad groups to generate those formats on their own and thus not only removes an entire "extra" step in setting up Shopping Campaigns in Google Ads, but makes it so that any merchant's products can display in any number of formats without any additional work to be done.
Although historical data will remain to look back on, no mention of analyzing performance by specific Shopping Ad "type" was made.
It will be interesting to see if Google Ads brings this level of granularity into Product Shopping ad groups within campaigns.