If anything, the pandemic has reinforced the role that delivery speed plays in the ecommerce purchase process: The latest research from McKinsey & Company indicates that when a retailer's delivery speeds slip, almost 50% of customers will go to a competitor. Further, customers' expectations keep increasing, with ~90% now stating that they expect free 2-day or 3-day delivery as a baseline.
So, we've teamed up with Google on a new integration that helps our retailers present customers on Google with more accurate delivery speed estimates based on their locations and the products they are viewing. For retailers, that can mean that potential customers see faster delivery speeds in a critical decision moment, which may increase their likelihood of closing the sale.
To use these new delivery speed estimates, all that our retailers need to do is link to their Sales & Orders account from Google Merchant Center. We then work with Google in the background to make sure the delivery estimates are accurate and up-to-date.
Who can use these delivery speed estimates?
Today, the new delivery speed estimates are available for products that are shipped from and delivered to addresses in the United States.
Further, retailers must…
use Sales & Orders with BigCommerce or Shopify
use Google for free product listings, Shopping ads, and/or Buy on Google
How do these S&O-linked, Google-calculated delivery speed estimates work?
By linking their Sales & Orders account with Google Merchant Center, a retailer enables Sales & Orders to begin synchronizing their recent order tracking data with Google.
That order tracking data may contain the following information for each package: the tracking number, the parcel carrier (like, "USPS"), the delivery service level (like, "Priority Mail"), the origin postal code, the destination postal code, the shipping cost paid by the customer, the products in the box, the quantity of each product, and the order handling time.
Upon receiving a retailer's order tracking data, Google uses their tracking numbers to request tracking events directly from parcel carriers. Then, it passes all that data through machine learning models to generate delivery speed estimates across that retailer's products and postal codes.
While searching for products on Google, consumers may see delivery speed estimates based on the product they are viewing and their location, among other factors.
Google only updates a retailer's configured speed (i) when its estimates are faster than the configured speed that would otherwise display and (ii) when its models have enough confidence in their estimate.
Those estimates should appear more often, as Google has been rolling out a number of new shipping annotations that emphasize delivery speed, for example, statements like "Get it by Nov 5" or "Free delivery by Mon, Dec 20".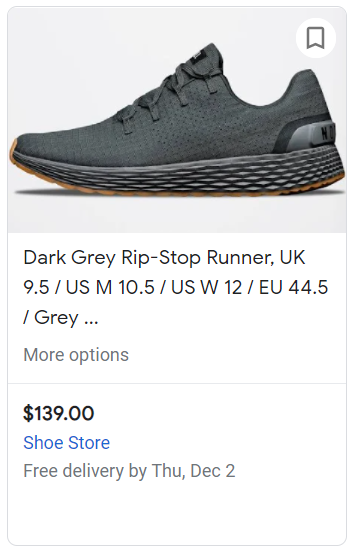 How do these delivery estimates impact free and fast annotations?
When retailers use Google-calculated delivery speed estimates, they're likely to find it easier to obtain free and fast shipping annotations:
With Google-calculated delivery speed estimates, Google uses the order tracking data provided by Sales & Orders to map all the areas in the country that a retailer can ship quickly to. That saves retailers from the time and effort of having to make those calculations and to configure Merchant Center accordingly.
To be eligible for free and fast annotations on Google, all that remains for them to do is meet the other criteria (details). In brief, they must…
offer free shipping or free shipping over a certain dollar amount (instructions)
activate web conversion tracking on their Google Ads account (

instructions

)
align the delivery speed messaging on their site with the messaging customers see on Google (

details

)
When retailers have linked to their Sales & Orders account from Google Merchant Center and met the remaining free and fast program requirements, they can complete the onboarding process by filling out this form to start an approval review.
How does a retailer participate in delivery speed estimates?
With our deep integrations to not only Google but also BigCommerce and Shopify, store owners in the United States can get started with delivery estimates as long as they have active order syncing set up within their Sales & Orders accounts.
Initial requirements for retailers that do not use Sales & Orders yet:
BigCommerce store owners need to install our Buy on Google app and then contact our team to request activation of order syncing.
Shopify store owners need to install our full app, contact our team to request activation of order syncing and then approve order permissions within their Shopify admin panel.
For either commerce platform, once store owners have installed our app, they must then authenticate to Google to establish the main connection between Sales & Orders and Merchant Center. (A second authentication is required for the order tracking data used in delivery estimates, which will be addressed later with the Sales & Orders support team.) With those initial steps complete, they can then contact our team, e.g., by opening a Live Chat conversation in our app, for help finalizing their configuration.
Existing S&O customers with order syncing already enabled:
To display Google-calculated delivery speed estimates, retailers must first confirm that they have an active shipping service in Google Merchant Center with delivery cost and speed configured. They can then reach out to an S&O representative to complete the onboarding process.
The instructions below can walk you through the process of confirming you have a shipping service that meets the requirements for delivery estimates:
Log in to Merchant Center here
Visit the "Shipping & returns" page here
Look for the "Shipping services" section towards the center of the page. In the list there, you are looking for at least one shipping service with the following characteristics:

Green dot indicating that the service is enabled
Area includes "United States" (it may include others)
Delivery type is "To an address"
If you

do not see

at least one service with those characteristics…

Log in to Sales & Orders
Open up a Live Chat conversation
Request assistance for Google-calculated delivery speed estimates
Request that your support team rep set up an S&O-linked shipping service
If you

do see

at least one service that meets the above characteristics, you need to do some additional checks to confirm it is actually serving delivery speeds to customers. Click on the service name to view a summary page.
Check the "Delivery Time" section of the summary.
If you see the headings "Ship from locations" and "Carrier services", you have a shipping service that can display delivery speeds. You are ready to link accounts:
Log in to Sales & Orders
Open up a Live Chat conversation
Request assistance for Google-calculated delivery speed estimates
Request that your support team rep set up shipping data verification
If you see the headings "Destinations" and "Transit time", you need to investigate further. Click on the pencil icon to the right of the row.
In the configuration screen that loads, look for the section with "Order cutoff time" and "Handling time":
If you have already filled in values for the cutoff time, cutoff timezone, handling time, and fulfilled days, click the back arrow by the Google Merchant Center logo in the top left corner to exit without making changes. You have confirmed that this shipping service can serve delivery speeds and you are ready to link accounts:

Log in to Sales & Orders
Open up a Live Chat conversation
Request assistance for Google-calculated delivery speed estimates
Request that your support team rep set up shipping data verification
If any of those values have not been filled in, you can do so now to enable that shipping service to display delivery speeds to customers:

The order cutoff time and timezone is the time after which orders will no longer be processed on a given day. Google adds an additional day to the delivery speed it displays to customers after this time.
The handling time is the number of days it takes you to fulfill an order once it has been placed, in other words, the time it takes for the order to leave your facility. Your handling time and transit time together represent the total time it will take an item to be delivered from order placement to delivery.

If you can fulfill an order that has been placed before the cutoff time on the same day, make your handling time 0 to 0.

The fulfilled days are the days that your facility operates to fulfill packages.

Once all that information has been added, your shipping service will display delivery speeds to customers. Click "Next" then click "Save".
You are also now ready to link accounts:

Log in to Sales & Orders
Open up a Live Chat conversation
Request assistance for Google-calculated delivery speed estimates
Request that your support team rep set up shipping data verification
Additional Resources
To learn more about how Google calculates shipping speeds, shipping data data verification, and the free and fast annotation, check out the following Google support docs: