This is some pretty cool news to add to the growing list of things Google is doing to help merchants win the digital shelf space just in time for the holiday selling season.
Select merchants are being notified by Google Merchant Center that they are eligible for a new pilot tied to carrier-calculated shipping settings.
Here's an excerpt with the key points:
Hello,
We've noticed that you have shipping rates configured in your Merchant Center account that use the carrier-rate option. However, the associated offers don't have a delivery speed configured, which could result from missing handling and/or transit information in the shipping service.
Based on these shipping settings, your Merchant Center account has been selected to participate in a pilot program that will automatically calculate your delivery speed. No additional action is required on your part to participate. As part of the pilot, Google would calculate your delivery speed based on your chosen shipping carrier service and shipping location. Only offers tied to the carrier-rate option will be affected. We will update the delivery time section of your shipping service – your existing carrier-rate configuration will remain unchanged.
The delivery speed is based on order cut-off time, handling time and transit time. (Learn more about delivery speed)
Order cut-off time: Current order cut-off time settings will remain unchanged. If no order cut-off time has been set, the default setting will be 2pm local time of the shipping location.
Handling time: Current handling time settings will remain unchanged. If no handling time has been set, the default setting will be 1 day. If no handling time business days have been set, the default setting will be Monday – Friday.
Transit time: Transit time will be set based on the Google calculated estimate based on your chosen shipping carrier service and shipping location. Any existing transit time settings for the impacted shipping service will be ignored.
You can adjust the shipping settings in your Merchant Center account at any time.
The benefits to you include:
Showcase your delivery speeds on the Shopping tab. Delivery speed is a major consideration shoppers look for when making a purchase decision.
Early participation in various new user treatments that show delivery speed across ads, free listings and Buy on Google on various Google surfaces.
Show the fastest delivery speeds for each region with no need to create detailed shipping tables. Google calculated delivery speeds take into account your customer destination and shipping location (for example, warehouse).
Why Merchants Should Care
Over the course of 2020, we have already seen the tremendous effort that Google has put into helping both merchants reach more shoppers and increase sales.
What with Free Product Listings now going global, Zero Commission fees for Buy on Google, and the free and fast annotations for Google Shopping Ads – this latest pilot is yet another boost for merchants and one that comes at a pivotal time in the ecommerce industry.
If you are a merchant selected for this pilot, we would say to take full advantage of the offer from Google Merchant Center.
It is only going to help across all the Google surfaces that you are likely showcasing products on:
Shopping Tab: Now comprised almost entirely of Free Listings, being able to surface fast delivery times for traffic you aren't even paying for is an absolute no brainer.
Buy on Google (and others): This is a chance to get in on, as Google's email mentioned, new opportunities sooner to "own the buy box."
Less Work for You: Why not take some of the burden off of keeping up with extra settings in Merchant Center shipping settings?
The modern-day shopper has very high expectations and that only means that ecommerce merchants have to meet that demand
Based on a study commissioned by Walker Sands back in 2018, 79% of US consumers had said that free shipping would make them more likely to shop online while another study issued by Narvar saw that 53% of those consumers won't even purchase a product if they don't know when it will arrive.
Ultimately, taking this extra helping hand from Google could translate to instilling more confidence in potential buyers which could have a direct impact on click through rates and conversion rates in both paid and unpaid mediums on Google.
How to Participate OR Opt Out
What's great about this pilot is that there is no further action needed by a merchant if selected to be part of it.
Google will dynamically populate these settings on your behalf. Should they not already be set within your Merchant Center shipping settings.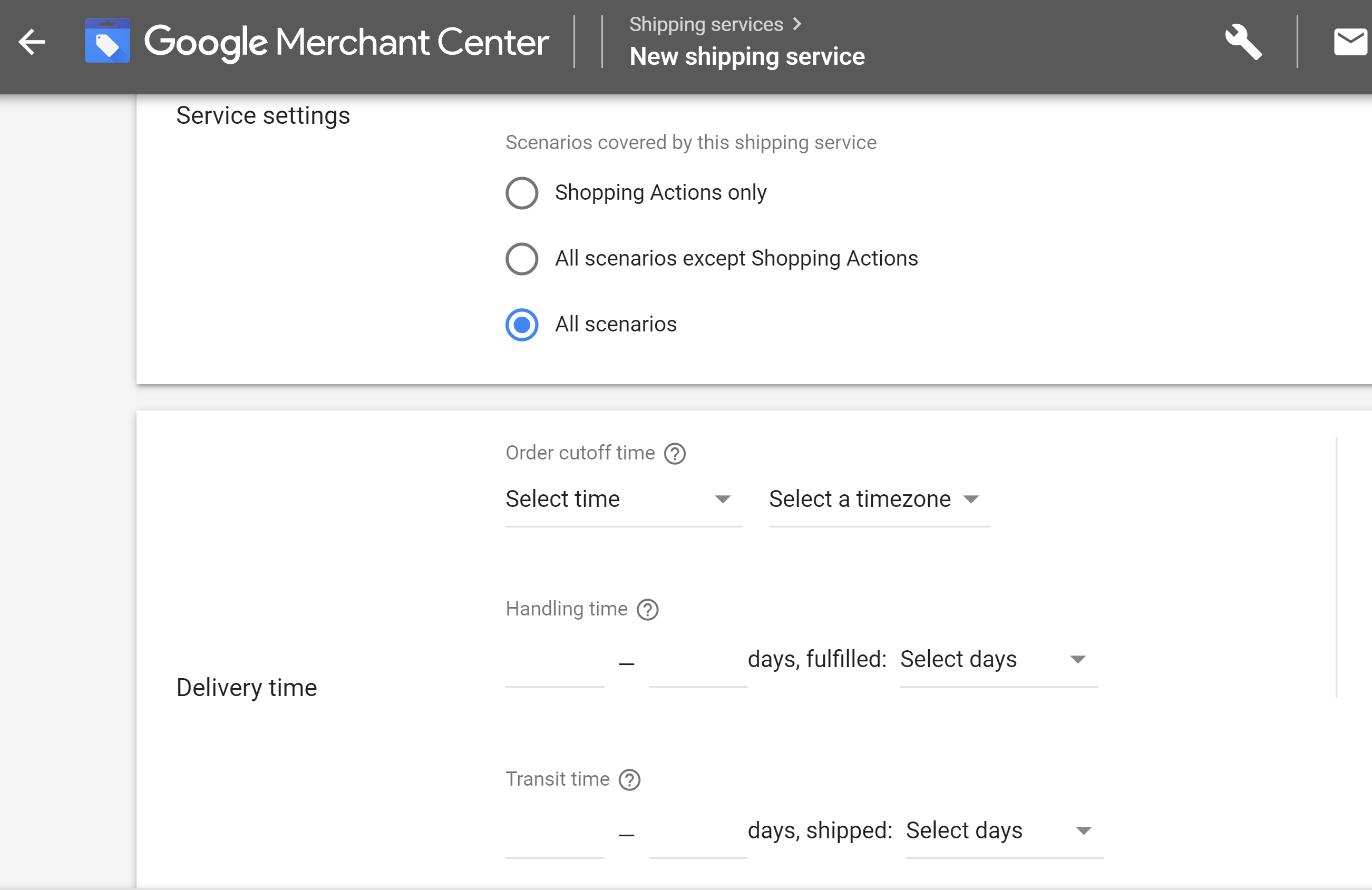 However, should merchants not wish to participate they may opt out using this form within 14 days of receipt of the email from Google Merchant Center.
Even if you don't opt out before, you can use the same form afterwards to opt out anyway.