Google's latest automated campaign type has been officially cleared for beta launch after successfully yielding positive results in early-phase close testing.
After being unveiled alongside several other new features in October 2020, Google's Vice President/General Manager of Ads, Jerry Dischler recently said the program will open up to thousands of retailers globally with a full release expected later this year.
So, how can retailers utilize Performance Max campaigns? Let's take a deeper dive into the details and find out more about how Google's latest ad innovations can help you!
What Are Performance Max Campaigns?
Performance Max campaigns allow you to access all of Google ads inventory from within a single campaign. By utilizing automated bidding types (target ROAS or target CPA for example), Google optimizes performance in real time across all of Google's channels – Youtube, Search, Display, G-mail, Maps and Discover.
(Note: Performance Max will show as a campaign type selection if your marketing objective is
"Sales", "Leads", or "Local store visits and promotions".)
Cross-channel optimization with Google automation can help to create opportunities that may not have been there before.
Combined with audience signals, high quality copy, imagery and video input by you, these campaigns can broaden your reach to not only convert those who should convert, but also reveal high intent user segments that you weren't aware of previously.
Additionally, advertisers will gain access to new reporting and insights that will help you understand how Google's Machine Learning is working for your business.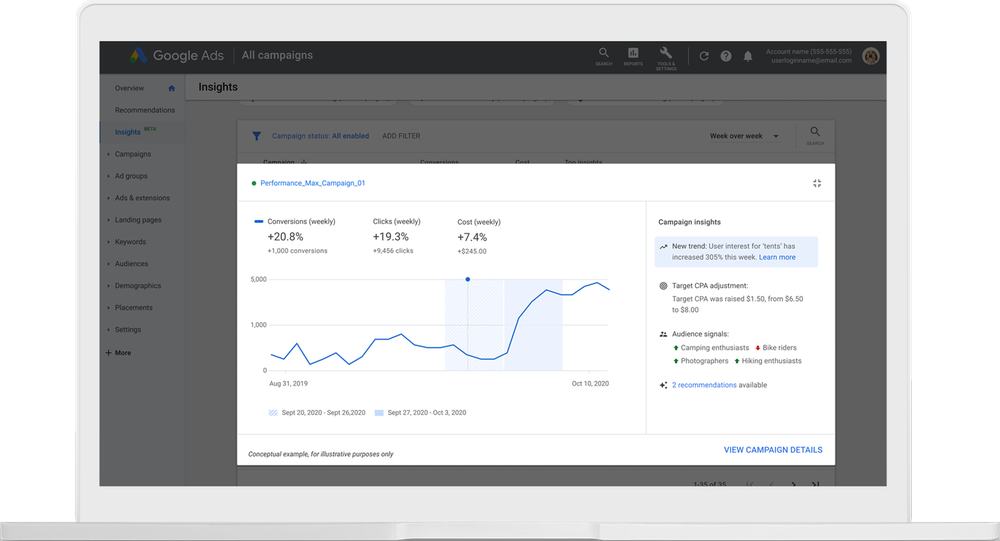 Utilizing another beta program, the insights page can show advertisers specifically which combination of creative assets and audiences worked best. This information can help you make internal campaign optimizations to improve performance further by showing you which type of content Google users interact with most.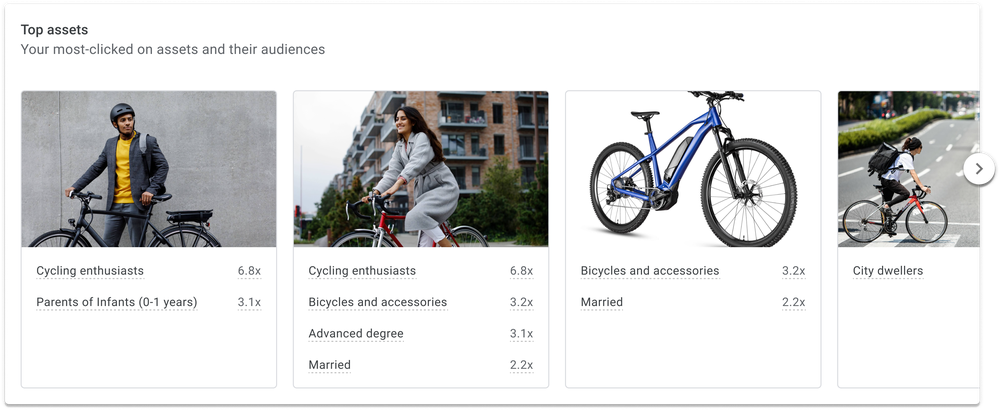 Benefits of Performance Max Campaigns
Simply put, these campaigns help retailers reach their audience across several different channels in Google in one campaign. Not only can you target more efficiently, but you're also saving time in management thanks to the automation that's in place.
You're also able to take more control over the performance thanks to the new reporting that comes along with Performance Max campaigns. Previously, there wasn't much frame of reference for what worked vs. what didn't work.
Now, the different combinations of content and audiences are presented to you in an easily digestible and transparent format that can help not only guide how you adjust your content in Google, but how you create new content in the future.
Thanks to these new innovations, retailers have already reaped the rewards of this new campaign type.
According to a case study shared by Google, some advertisers saw an 18% increase in leads at a 70% lower Cost Per Acquisition than traditional Search campaigns.
Wrapping Up
Performance Max campaigns are the latest advertising innovation by Google, making it easier than ever to get your ads in front of your audience.
It combines several of Google's ad types into one broad-reaching campaign that automatically optimizes across channels to capture conversions more efficiently, and open retailers up to new segments they may not have realized the should be targeting.
If you're interested in joining the beta program, you can fill out Google's interest form here.