Ecommerce merchants may start to see notices coming in that their products are no longer eligible for enhanced listings on the Google Shopping tab.
Just today, May 14th, a blast of notifications out to Merchant Center account owners and admins letting them know that some or all of their products are not surfacing on the Shopping tab – this tied specifically to Google's Free Listings enabled through Merchant Center with a product feed.
More specifically, the two specific notices going out are (so keep an eye out for these):
Update inventory to make offers eligible for clicks on the Shopping Tab

– In this notice, Google seems to be indicating the exact attribute as the root cause with most showing to be related to discrepancies in the availability attribute.

Keep products eligible for clicks on the Shopping tab by fixing disapproved offers

– This notice is more vague with little detail and will require that you check in Merchant Center to find any data quality warnings matched to products no longer being eligible for enhanced listings.
How To Check For Enhanced Listings Eligibility
Your first course of action is to log into your Google Merchant Center account. You'll land on the Overview page.
What you're looking for is the Free listings panel and note the dark green color differentiation in the chart for Active and Partially active: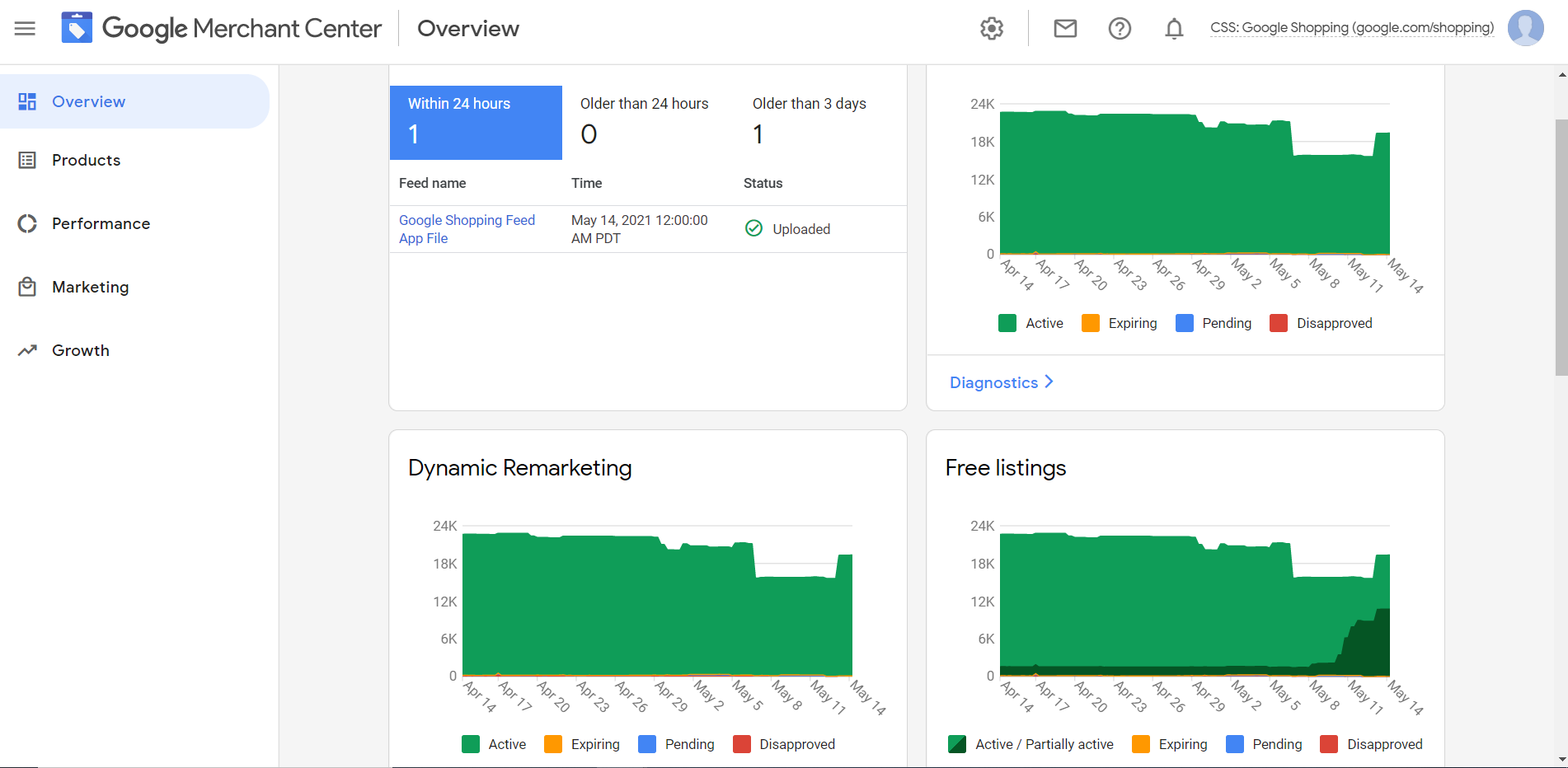 For your products to appear in rich results on the Shopping tab on Google (enhanced listings) they must be Active.
The mark of Partially active indicates that there is a data quality issue causing the ineligibility.
How To Find The Data Quality Culprit
In the above example, there are over 10,000 products affected. Now, comes the "Why".
Clicking on the text 'Free listings' will open the diagnostics in Merchant Center specific only to that feed destination (ie Merchant Center program).
Hover your mouse of the chart along the affected region to bring up the breakdown and note the number of Partially active products:
Now, scroll down until you reach the Item level issues. Look for the common denominator here.
Although it could be for a mix of reasons, in the above example we found the culprit to be missing GTINs, and we know that to be accurate because it is not indicating a disapproval but an account warning: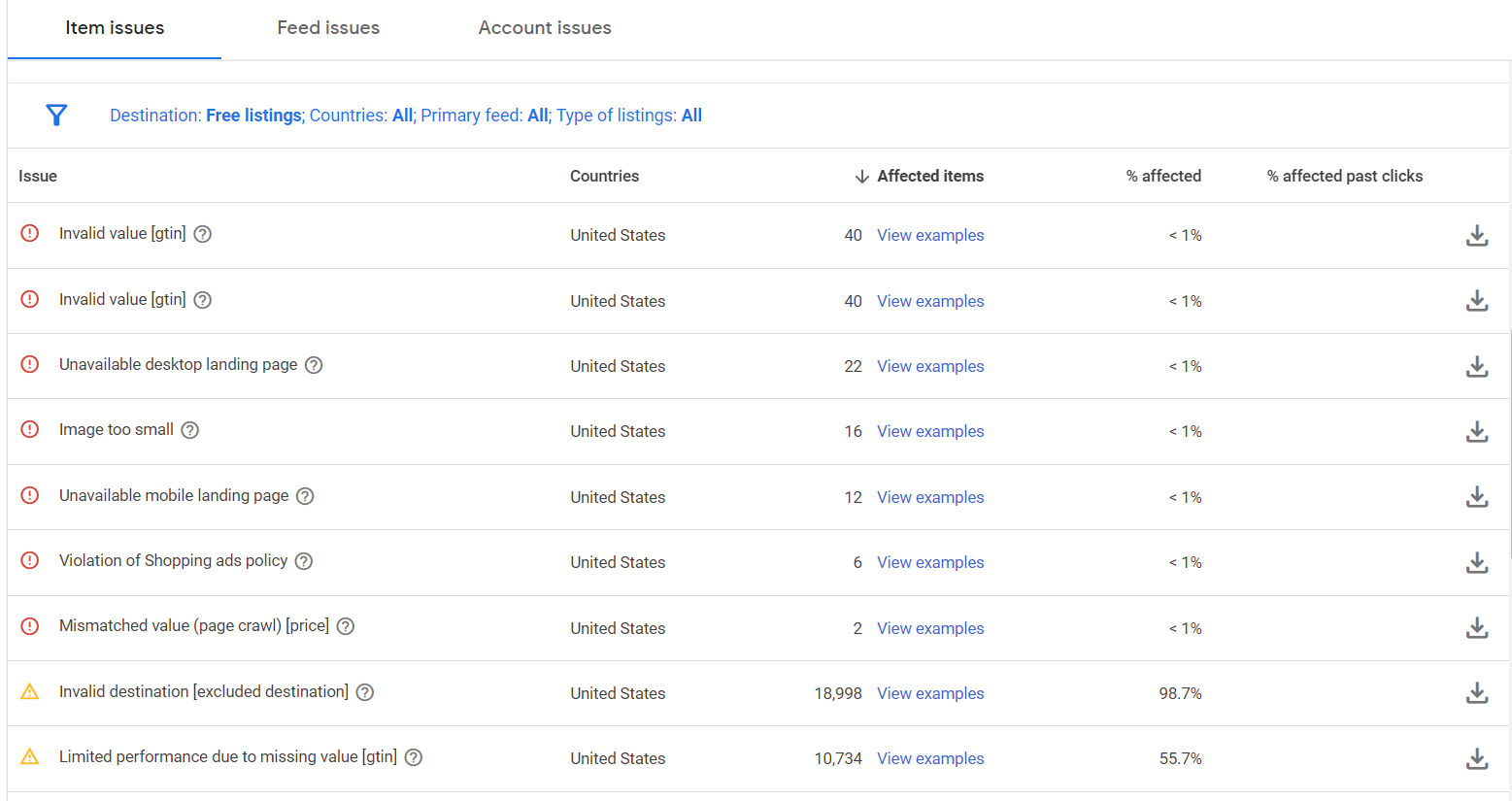 Its now simply a matter of working backwards from this to solve for the issue and potentially get your products back to full approval status for enhanced free listings on the Google Shopping tab.
Check Your Product Feed First
The natural place to start is in your product feed that you are submitting to Google Merchant Center. This might be more difficult or time consuming if you are using a manual file submission for your feed.
However, if you are using a feed tool or platform like ours here at Sales & Orders, you should be able to quickly filter for missing attributes.
If you are working with a feed management team, be sure to reach out to your point of contact to get this addressed as soon as possible.
As a quick reference, you can review Google's standards on data quality for Free listings (both standard and enhanced – I'm including the core excerpt below:
Standard Listings
The minimum required attributes to show your inventory for free on Google are:
id
title
link
image_link
price
Enhanced Listings
Products that are eligible for enhanced listings will appear in content-rich formats on the Shopping tab, which may boost traffic and drive sales. In addition to the attributes required for standard free listings, the following attributes are required to participate in enhanced listings. Performance may be limited unless you provide all attributes available in your region:
description (required for all products)
availability (required for all products)
condition (required for each used or refurbished product)
brand (required for each product with a clearly associated brand or manufacturer)
gtin (required for all products with a GTIN assigned by the manufacturer)
mpn (required for all products without a manufacturer-assigned GTIN)
multipack (required if your product is a multipack)
is_bundle (required if your product is a bundle)
color (required for Apparel & Accessories)
size (required for Apparel & Accessories)
age_group (required for Apparel & Accessories)
gender (required for Apparel & Accessories)
item_group_id (required for product variants)
shipping (required when you need to override your shipping settings in Merchant Center)
tax (required when you need to override your account tax settings in Merchant Center)
Resubmit Your Feed When Ready
Once you've addressed any issues, go ahead and resubmit your feed. On average it can take Google Merchant Center anywhere from a few hours and up to a few days to re-process your data.
It is not at all uncommon for Google to strike down accounts that are not in compliance with product data or data quality specifications.
This is, however, one of the very few times we've seen such an en masse outreach specific to Free listings and enhanced listings.
If you're working with our team here at S&O, do not hesitate to reach out and see if we can help!