And we were just as surprised as you may be now, and on the heels of us adding support for Smart Shopping campaigns in Sales & Orders.
Item ID subdivision has come to Smart Shopping Campaigns!
A few weeks ago our team noticed that the Item ID subdivision option was suddenly available in the Google Ads interface when structuring a new Smart Shopping campaign.
We scoured only to find that there was no official notice of this addition from Google whatsoever. Additionally, we discovered that it was also added to their API – allowing platforms like ours now to access this subdivision criteria.
It wasn't until today that we received any mention, coming from the Google CSS Newsletter: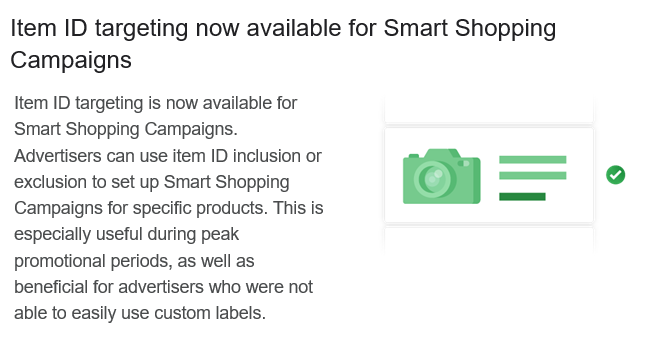 It is very exciting to see that Google has added this functionality to Smart Campaigns as it has the potential for enhancing one's ability to analyze products at a far more granular level.
We are working to bring this functionality into our app while our team also tests this new subdivision option directly in Google Ads.
There's no telling what the impact may be but we aim to gather as much data as possible to gain a better perspective as this subdivision type potentially becomes more mainstream.
Important Notes
Availability in Sales & Orders
Our engineers are currently working to adapt the Item ID structuring capability into our recent launch in support of Smart Shopping campaigns in general.
We expect to be launching this live very soon.
Google Recommends
According to Google, it is actually best to use as few subdivisions as possible for Smart Shopping campaigns because they rely on Machine Learning.
Based on this, it is possible that too many subdivisions may actually impede a campaign from performing.
Large Catalogs
By default, only a few hundred IDs can be subdivided at once in the Google Ads interface unless using the Bulk values option.
Be wary of this as you may need to copy and paste a larger list of IDs when subdividing solely to the ID-level or when subdividing an existing group such as a Brand.
Best Practice
It is likely that the Item ID subdivision is best used in small use cases ie special sales, discount codes, seasonal fluctuations, etc.
From what we know about Smart Shopping campaigns, the subdivision may be most viable for only a few to a few hundred products maximum.