With the holiday season fast approaching, retailers are exploring ways to substantially expand their reach in a way that helps sales and doesn't overly inflate their budget. Enter Microsoft Bing Shopping Ads.
Since the beginning of the COVID-19 pandemic, Microsoft Bing has seen its US market share swell to nearly 40%, which represents significant growth compared to just a couple of years ago.
This growth can be attributed not only to increased online shopping behavior over this period, but a broader effort by Microsoft to improve UX within Microsoft Bing and advertiser experience within their interface Microsoft Advertising.
Combine these factors with the rush of the holiday season, and you have the perfect solution for your traffic boosting needs.
Get Your Product Listings Live In Microsoft Bing

Microsoft Advertising has made it quite simple to get started with Shopping ads in their interface, especially if you're already running ads in Google.
Whether you use Google or not, the first step to getting your products listed in Microsoft Bing is to create a Microsoft Merchant Center Store and verify/claim your websites URL.
Once you've completed these steps, what you do next will vary depending on whether or not you are currently runnings ads and a product data feed with Google.
Just in case you aren't currently running ads in Google, let's review getting your products live with Microsoft Bing Shopping campaigns with both scenarios.
How to Get Started Without Google Ads
Now that you've set up Merchant Center and verified your URL, you'll need to submit a product data feed, which Microsoft will use to generate your product listings when you start running a Shopping campaign.
Your data feed must consist of certain required information that will help the search engine pluck your products when shoppers are searching in Microsoft Bing.
When it comes to creating a data feed, you could go through the process of creating one yourself or working with a third-party product feed management platform, like Sales & Orders, that can generate a feed for your store to the required specifications dynamically.
Either way, you'll need to do this first and have it approved before you can create your first Shopping campaign.
How to Get Started With Google Ads
For those who already have a data feed and active Shopping campaigns in Google, Microsoft has developed a tool that allows retailers to connect and import everything over from Google into Microsoft Advertising.
With all the lifting already done, you simply need to give permission to import from Google and voila your products and campaigns are now in Microsoft.
Winning Shopping Campaigns Structures
When it comes to advertising your products during the holidays, you want to make sure you're getting the most bang for your buck.
The holiday season means more activity across all channels. Microsoft Bing is no different. In fact, 36% of all clicks last holiday season were attributed to Product ads.
With the additional rush of competition, it isn't always realistic that every product will get the same attention. You'll want to focus your most aggressive ad spending and strategizing on products that are established winners for you as well as products that are trending.
With that in mind, there are a few options for campaign structures that are both easy to setup and can deliver quick results.
Top Brands Campaign
If you sell a lot of different brands in your store, you may want to consider splitting a few of the best performing ones out into their own campaign.
Start by looking back at historical data and make the judgement on which brands you want to most aggressively push for the holidays.
Creating the campaign structure can be accomplished in a couple of ways:
One campaign with all of your top brands in it, or
One campaign per top brand
Which one you choose is dependent on how many brands you wish to focus on as well as your allotted budget for the channel.
When it comes time to set it up, much like your data feed, you can do it in the Microsoft Advertising interface or with a shopping ads management platform, such as Sales & Orders.
If you're using Microsoft Advertising, once you've gone through the process of creating your new campaign(s), head to the product groups section. There, you'll see the "All Products" product group which contains (you guessed it) all of your products.

To subdivide by brand, hover over "All Products" to reveal a pencil icon and click on it.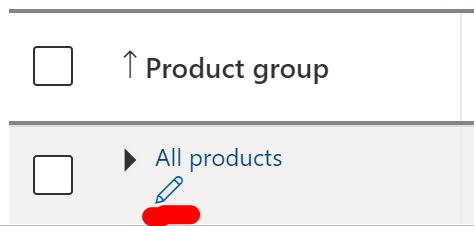 This will reveal the subdivide menu. From here, click on the dropdown and choose "brand" as your option. This will show you the different brands found in your feed. Select the brand or brands you plan on adding into your campaign and click save.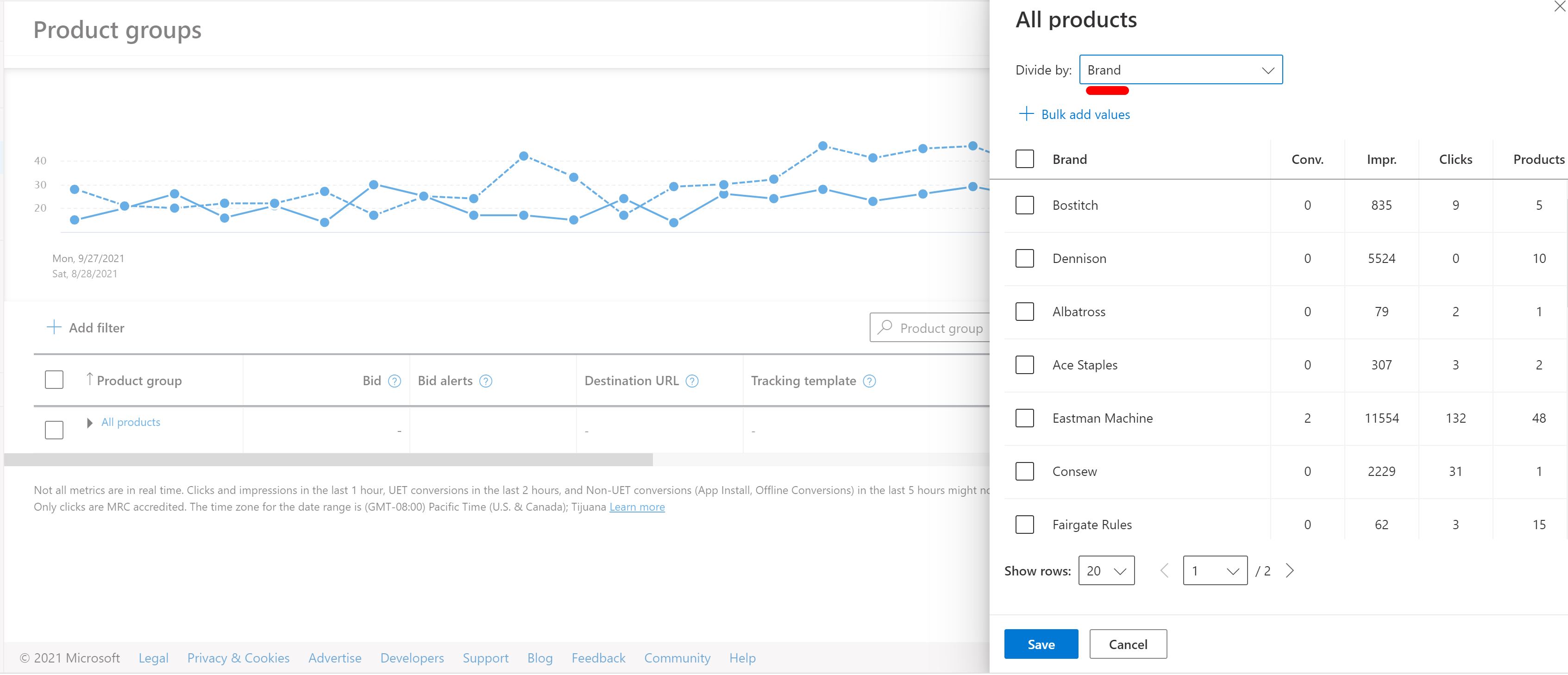 This will create your new brand product group and another product group titles "Everything else in all products." Make sure you EXCLUDE the "everything else" product group to avoid overlap. This will ensure the campaign only shows the products you want it to show.

Top Products Campaign
This campaign structure is similar to the previous, but rather than subdividing by brand you're going to subdivide by product ID.
The idea behind this campaign structure is to allocate more budget towards products that have historically performed well in Shopping ads.
Look back on the last 60-90 days or more of data, and find the products that have the most sales and best return on ad spend, and find their ID in the feed.
Than, when you subdivide your campaign select your IDs and save.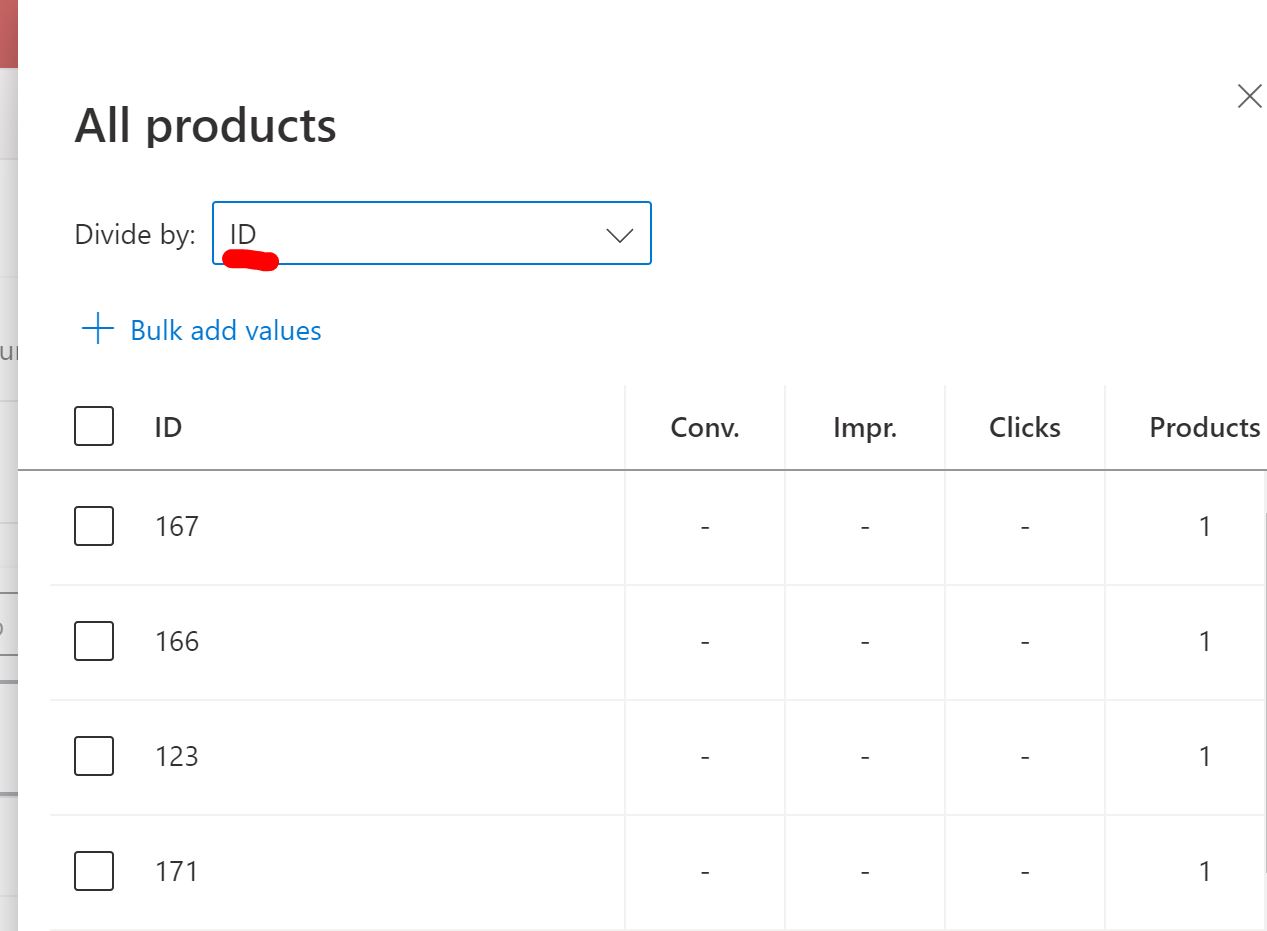 Mobile-Specific Campaign
If you're seeing a lot of sales coming from mobile devices, or overspending, you may want to consider creating a campaign that specifically targets that device type, in addition to the campaign that continues to target desktop and tablets.
To accomplish this, create a second campaign with the same products in it, whether it's all products or just certain products in a specialty campaign.
Next, you want to adjust your device settings on the campaign level for both campaigns.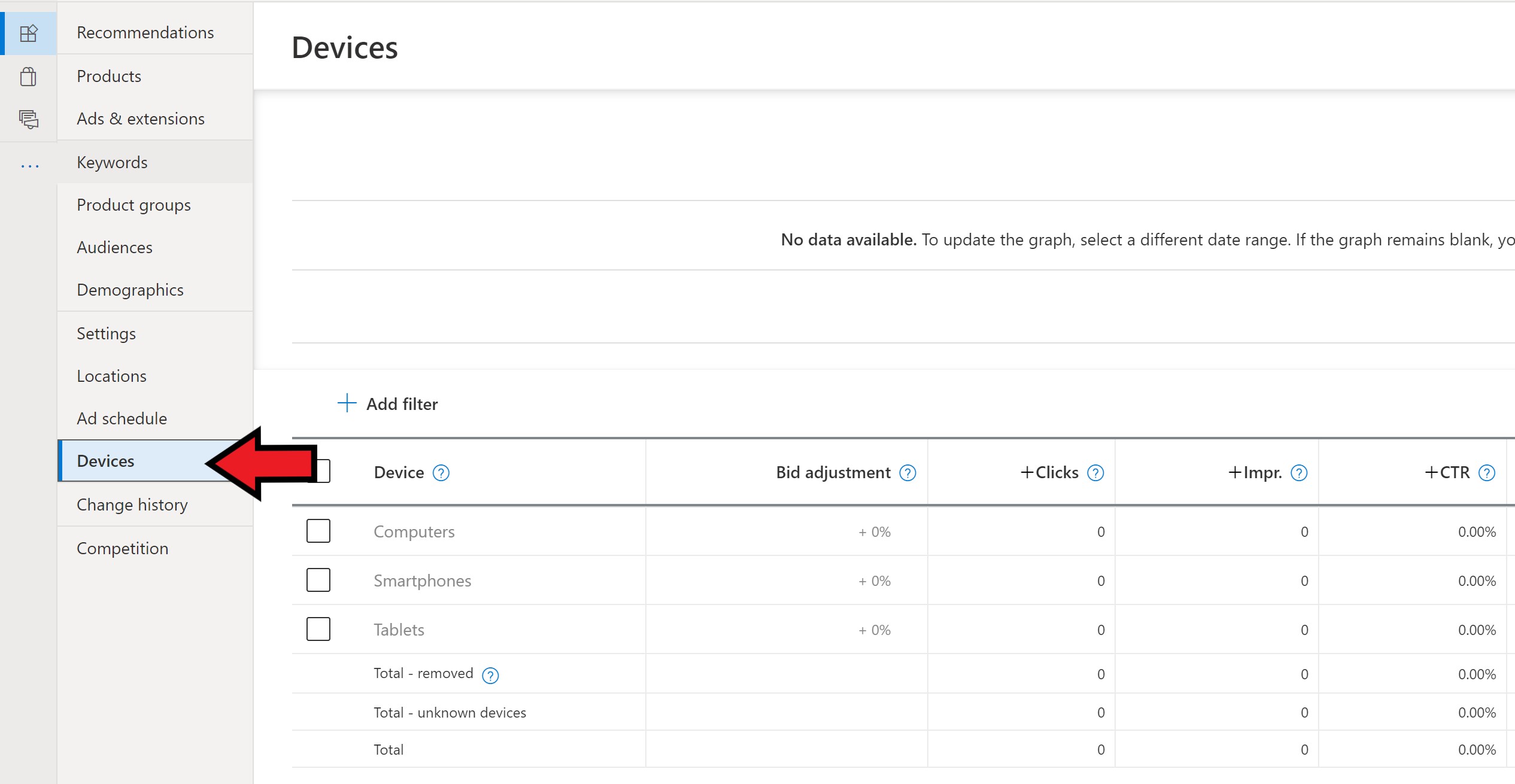 For the mobile campaign, you'll set Computers and Tablets to -100%. For the desktop/tablet campaign, you'll set smartphones to -100%.
This will allow you to adjust your bidding strategy based on the device as well as control how you are spending budget across devices.
Microsoft Bing Shopping Campaign Management Tips & Tricks
Once you've gotten your campaigns set up to your liking, it's time to pivot your attention to ongoing management.
Much like any marketing initiative, managing your Microsoft Bing Shopping campaigns will involve continued attention and tweaking.
Here are a few tips that can help you along the way.
Review Search Terms to Add Negative Keywords
This is especially important for brand-related campaigns. You'll want to be sure that the search terms coming through are as relevant to that campaign as possible.
In general, though, you should check this on a weekly or bi-weekly basis. Look in the "Keywords" section of the Microsoft Advertising interface to find this data.

Adding negative keywords is a good way to reduce wasted ad spend and improve your return on ad spend.
On top of that, the search terms report can give you clues as to what people are searching for when they click and/or convert on your products. This can be helpful when making decisions about future product bidding and campaign structure as well.
Set an Ad Schedule
Ad schedules allow you to control when you are spending the majority of your budget without entirely shutting down your campaign for a period of time, which can hurt your indexing.
If you find your campaign runs out of budget too early in the day and your results aren't great, look into your hours report over that period of time. This can be found in the "Ad Schedule" section.

Typically, retailers find that overnight hours are where the most waste occurs. To avoid this, try setting an ad schedule that blocks out off peak hours for your business.
To do this, you'll need to create two ad schedules. The first covers the hours you want to reduce your spend and the second covers the rest of the day.
For example, if you want to reduce bids from midnight until 7 am, you'd create a schedule for both 12am-6am and 6am-12am.

Run Merchant Promotions for the Holidays
You can align your pricing in Microsoft Bing Shopping campaigns with any promotions you have running on your website. This can help make your ad more attractive to shoppers searching in Bing, and increase click through rates and conversion rates.
This is especially important during the holiday season because many retailers are doing this, and if you don't you run the risk of losing out on potential business.
This is a multi-step process. To start, you'll need to be approved for the promotions program by filling out this form and submitting it to Microsoft.
Once approved, you can create your first promotion. Head to your Merchant Center, and click on promotions.

From here, you'll instruct the system which products the promotion effects by assigning a Promotion ID in the feed and matching it to what you set in this section.
Once you submit, it will take 24-48 hours to be approved. Learn more about this feature here.
Wrapping Up
Expanding the reach of your ads to a new channel can seem daunting, but Microsoft Bing makes it super easy to get your product listings live in front of their nearly 120 million unique users.
Whether you already have Shopping ads active in Google Ads or not, Microsoft Advertising's interface has a streamlined process and in-depth resources available to help get you started.
Here at Sales & Orders, we are Microsoft Elite Partners and have an expert staff ready to assist when you're ready to start advertising in Microsoft Bing.
Our Shopping feeds and ads platform has helped thousands of retailers grow their revenue with Microsoft Bing Shopping ads and can help you too.