No one likes wasting money on marketing and advertising. That's why TV and print advertising are having such a tough time of it. Savvy entrepreneurs and marketing managers are finally waking up to the fact that obtaining a measurable ROI from these traditional media forms is tough, if not impossible.
That might be fine for Coca-Cola, but it's not okay for the little guy. And at Sales & Orders, we're all about the little guy.
We believe online advertising is the way forward for small and medium-sized businesses across the globe. In a lot of cases, it's even a better choice for massive corporations, too.
But getting started with online advertising is hard. There are dozens of platforms, loads of channels and all these confusing acronyms. ROI might be obvious, but what about cost per view (CPV) and (demand side platforms) DSPs?
Don't worry though. We've got your back. If you want to learn how to advertise your website, this is the guide for you.
Here's what you will learn
Why online advertising is the best bet for your business
The different advertising channels you can use
The most popular platforms for online advertising
How to pick the best channel and platform combination for your business
What makes online advertising so good?
To put it bluntly, there's no other form of advertising in the world that can generate the kind of ROIs and customer data that online advertising does.
That's down to a few things.
First, online advertising is very cheap compared to traditional methods. The amount it takes to reach a thousand people (Cost per Mille or CPM) varies a staggering amount between different mediums. Lyfe Marketing produced a handy infographic to demonstrate.
While direct mail has a CPM of $57 for instance, social media has a CPM of $2.50. To give that some more perspective, TV has a CPM of $28 and newspapers a CPM of $16.
You get way more bang for your buck when it comes to online advertising.
Secondly, the ability to target customers with online advertising is phenomenal. Thanks to the deluge of data that is part and parcel of the Internet, and particularly social media platforms, advertisers can effectively hand select who sees an advert.
If you are booking a TV advert, all you can do is choose the time you want it to show and hope that your audience is watching. With a platform like Facebook, however, you can choose to advertise to people of a certain age, gender, heck you can even target their interests.
The more targeted your ads are, the more customers are likely to buy your product are sign up to your service. That means you have to spend less money to convert customers. The end result: a higher ROI.
Online advertising is the future, and everyone knows it. Digital ad spending is predicted to top $335 billion by 2020 and represent 46% of total media investment.
If you aren't advertising your business online already, here are the channels and platforms you need to know about.
What are the different online advertising channels?
Whatever your budget and whatever you sell, there is an online advertising channel for you. There are several key online advertising channels that business owners should consider using.
Some, like search and social media, are incredibly well known. Others, not so much. But just because you haven't heard of a channel and don't know much about it doesn't mean you should rule it out. It might be the perfect way for you to advertise your business online.
Search advertising
Paid search, also called PPC (pay per click) or SEM (search engine marketing) is probably the most well known and commonly used online advertising channel of them all. I bet everyone reading this has clicked on a Google search ad at some point in their lives. It's the channel that first timer online advertisers flock to.
For those who don't know what search ads are, they are the sponsored ads that appear at the top of search engines. For the most part, these will take the form of links that look virtually identical to the natural listings displayed below. When you are searching for something to buy, however, Google will show Google Shopping ads as well.
Search advertising platforms:
Google Adwords: By far and away the most significant advertising platform in the world today. Google Adwords offers business owners and marketing managers the opportunity to appear in billions of search results each day. Adverts appear as 3-4 links above the organic search results and everything is managed through Adwords. Those who need help getting started with Adwords should follow the Adwords Express guide.
Bing Ads: The search advertising platform of Microsoft's Bing search engine. Though not as widely used as Google, the platform still allows you to appear in millions of search results every day. Bing also has a helpful getting started guide
Google Shopping: The e-commerce element of Google Adwords, but a totally different platform altogether. We will cover this separately later on in the article.
How does it work?
These kind of search ads are present on every major search engine, including Google and Bing. When a user searches for a phrase, the search engine lists adverts alongside the natural listings.
If a user clicks on one of the sponsored links, the advertiser gets charged and the search engine makes money. Once the user clicks on the link, they are redirected to the advertiser's homepage. It's as simple as that.
From the advertiser's point of view, each search engine has a dedicated advertising platform that lets advertisers create ads and bid on specific search phrases. For instance, an owner of a beauty salon would bid on beauty-related keywords that are specific to their city.
Both Google and Bing have specific ads for mobile devices, too. This is important since over half of searches are completed on mobile devices.
In fact, Google even enables advertisers to create adverts that let users call companies direct from their smartphone, without having to dial a number. This is a great option for local businesses.
How are ads priced?
Search ads are priced on a CPC (cost per click) basis. The advertiser pays every time someone clicks on their ads. The ads themselves can be relatively expensive compared to other forms of online advertising. CPCs of $50+ are not unheard of.
There are ways to reduce costs, however. The more targeted a search phrase becomes, the cheaper it is. For instance, Divorce Lawyer in Seattle is cheaper than Divorce Lawyer.
What's great about search ads?
The best thing about search ads is the level of user intent involved. When people are using a search engine, they usually want to find out specific information on the path to purchase. Sometimes they are even searching with the intent of making a purchase immediately. The opportunity to put your product in front of people who are actively searching for it is huge—and that's why Google Adwords ads in particular can be expensive.
What makes a great search advertising campaign?
The best search advertising campaigns are all about maximizing click-through rates (CTRs) and conversion rates (CVRs). Good search campaigns will have the following attributes:
Highly targeted keywords that are relevant to your business
A budget that allows for several dozen clicks per day
A strong list of negative keywords (phrases you don't want to appear for)
Good landing pages once a user has clicked on your ads
Facebook
While it is a social media channel, we're going to be discussing Facebook separately from all other the social media platforms. Why? Because it's advertising platform is on a completely different planet to other social media sites.
Virtually any business can find a way to successfully advertise on Facebook. And it shows when you look at Facebook's accounts. The social media giant raked in $8.81 billion in revenue from its advertising platform in Q4 of 2016.
How does it work?
Facebook advertising helps you achieve a number of objectives.
From driving traffic to your website to increasing the likes of your Facebook page, you can do it all with the Facebook Ads Manager.
Ads come in a variety of formats, including: desktop sidebar ads,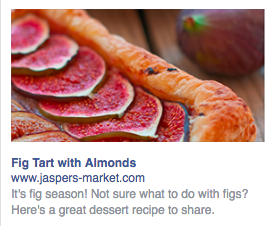 Desktop newsfeed ads:
And mobile newsfeed ads:
The targeting options are what really sets Facebook apart from other online advertising platforms. Before deciding how they want their ads to be displayed, users must first select who they are going to target. Facebook lets you target their users through the following criteria:
Location
Age
Languages spoken
Education
Gender
Relationship status
Type of work
Ethnicity
Major life events
Interests
Hobbies and activities
Behavior
The sheer number of ways to target people is what makes Facebook such a popular platform. Even Google Adwords won't let you target people in the same way.
How are ads priced?
When it comes to paying for Facebook ads, there are a couple of ways to pay depending on the type of ad you created. Most common is a CPC charge whenever someone clicks on your ad or likes your page. But users can also pay per impression through CPM.
What's great about Facebook ads?
A number of targeting options available on Facebook make it an exceptional ad platform. It is also relatively cheap to run highly targeted ads, meaning you should be able to get conversions for only a couple of dollars.
Facebook's audience is another bonus. Virtually every person aged between 18 and 40 has Facebook in the western world. That's an awful lot of people to advertise to. The platform also works across every device. So whether your audience is on their smartphones, their tablets or their laptops, you can send device-specific ads to them constantly.
What makes a great Facebook advertising campaign?
Facebook campaigns work best when they are highly targeted. Broad campaigns tend to burn through money. Viral campaigns are also hugely successful. The more you can encourage users to share and like your ads for free, the more free coverage you will receive.
Want to learn more?
Check out the following resources on Facebook advertising:
Social Media
As anyone who has been annoyed by a promoted tweet or Instagram advert knows, adverts can be placed on pretty much all of the major social media platforms.
Young people spend a huge amount of time on social media. Some teens spend up to nine hours a day on social networking sites alone, while 30% of all internet time is spent on social media. Social media adverts don't just give your business the opportunity to reach target customers; you can do so in an environment they are comfortable with. This makes social media ads done right incredibly profitable.
Social media advertising platforms:
Twitter: The second largest social media site in the world has plenty to offer advertisers including promoted Tweets, promoted accounts and promoted trends.
Linkedin: A great place to advertise jobs for a low cost. Users are targeted with relevant job ads, making the chances of you finding a suitable candidate higher than on job boards.
Pinterest: The scrap board social network lets businesses promote pins to specific users. A great option if you want to target women in particular.
Instagram: Let's advertisers pay to promote image-based posts, which appear in targeted users' news feeds.
Reddit: More of an online community than a social network. Still, Reddit lets advertisers promote posts and links on the homepage and across all sub-reddits.
How does it work?
Advertising platforms and the adverts themselves vary from social network to social network. The vast majority use a promoted post concept, in which advertising content is added to user's newsfeeds at regular intervals.
The design of the advert will reflect the social network. For instance, adverts must look like Tweets on Twitter and be 140 characters long.
On Instagram, they must be images.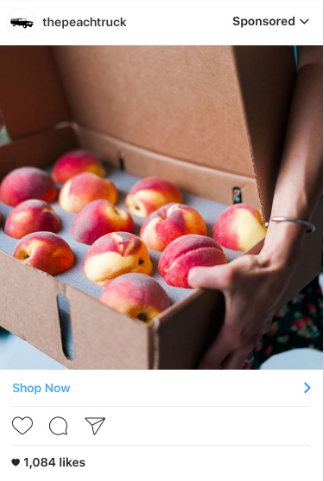 From the user's perspective, the adverts can look like a normal piece of content. This can lead to higher engagement levels and click through rates.
How are ads priced?
Adverts are available in a CPC or CPM format. Prices are cheap, and often significantly cheaper than Facebook due to the lack of targeting. That's not to say there isn't targeting options on other social networks, far from it. But Facebook does have significantly more targeting options than any other platform in the world.
What's great about social media ads?
Social media advertising offers brands and businesses the opportunity to engage with users on a platform they are familiar with. The close resemblance of adverts to organic content means that they may engage with them more. Social media ads also let you reach users on their phones. All of the platforms allow for mobile ads which is great since around 80% of total time on social media is spent on a smartphone.
What makes a great Social Media advertising campaign?
A lot of the things that make a great Facebook campaign are equally relevant to other social media platforms. Creating something that has the potential to go viral is important. The more your post gets shared for free, the better the ROI. It is also important that advertisers take care to mimic user behavior on platforms.
Want to learn more?
Check out the following resources on social media advertising:
Display advertising
Alongside search marketing, display ads are some of the most common forms of online advertising. You've probably seen dozens if not hundreds of display ads since you started browsing the web this morning.
Display ads are the bread and butter of online advertising, and they are used by hundreds of thousands of companies across the world. Use rates are increasing, too, and by the ends of 2017, display ad expenditure is expected to reach $37.36 billion.
Display ad platforms:
Google AdSense: The goliath of display advertising. Has placements on more websites than any ther platform
mMedia: Very beginner friendly with minimal investment costs
Taboola: Has a selection of high profile websites in its network including the Motely Fool and The Atlantic
Airpush: Mobile-only network that serves ads to over 150,000 applications.
How does it work?
Display ads can be found on any website that wishes to monetize their content. They are commonly found on blogs and digital newspapers, as well as forums and other online communities.
They come in a variety of shapes and sizes, but banner ads are most common, but there are also wallpaper ads, overlay ads and several other forms of display advertisements.
When it comes to buying display ads, advertisers need to use display advertising networks. These are the middlemen who facilitate the displaying of ads on a website owner's site and the purchasing of ads by the advertiser.
Targeting is essentially the same as all other channels. Advertisers can use the networks targeting options to determine who to show adverts to. This includes their demographic, recent browsing history and interests. Networks will also allow advertisers to bid on keywords.
How are ads priced?
Two pricing methods are common with display ads: CPC and CPM. These ads tend to be cheaper than most other forms of online advertising as they are less targeted.
What's great about display ads?
The low price and sheer volume of available spots make display ads excellent for building brand awareness. Everywhere users go they can see adverts for your product. Because display ads are image-based, it is also an opportunity to create an eye-catching advert in a way that you can't with other forms of online advertising.
What makes a great display ad campaign?
A combination of volume and retargeting make the perfect display ad campaign. Your product also needs to be right for the channel as well. You need to be advertising something that has wide appeal in order to make display advertising worthwhile.
Want to learn more?
Check out the following resources on display advertising:
Google Shopping
Google Shopping is the only online advertising channel dedicated to e-commerce. While e-commerce stores can and should advertise across all of the channels mentioned above, Google Shopping lets stores target customers when they are searching with intent to buy.
How does it work?
Google Shopping works in a similar way to Google Adwords, but instead of serving promoted links, Google serves adverts for a specific product from an online store.
For example, if you are searching for a cocktail dress, Google will display a row of image-based adverts from online stores, complete with the price.
Setting up Google shopping adverts works a little differently to Adwords, however. Instead of creating your own ads, users must upload a product feed. This is a file or API that contains information about all of the products a store wishes to advertise. Google will then automatically create adverts based on this information. This means that there is no keyword-based bidding. Google decides whether your product appears for a search, not you. The only way to control your adverts is to use negative keywords to limit the search terms your products appear for.
How are ads priced?
Ads are priced using the same CPC model as standard Adwords.
What's great about Google Shopping ads?
Google Shopping puts your product in front of users when they are actively searching to make a purchase. As a result, customers who click on your ads are far more likely to make a purchase than they otherwise might have been.
The ads themselves also stand out significantly from the standard Google search engine page. This means users should be more likely to click on one of the images, rather than the links further down the page. This is great for smaller stores who can't outrank big national corporations.
What makes a great Google Shopping advertising campaign?
Having a thorough and well-structured product feed is key to your success. This is the area most small business owners struggle with and it's why we offer a feed management service. This way, store owners get great campaigns without having to get their hands dirty with the data. Optimization is also key to a successful campaign. Analyzing what is working and what isn't, and adjusting campaigns accordingly can significantly increase ROI.
Want to learn more?
Read our blog for all of the latest Google shopping tips and tricks.
Determining budget
If you've come to this section looking for a definitive answer on how much to spend on advertising, I'm sorry to disappoint you. Such an answer doesn't exist. But for those who don't know where to start, here are several strategies to use:
A percentage of your revenue: Allocate between 7% to 12% of your annual revenue on marketing. More if you are a startup, less if you have been operating for several years.
Copy your competitors: Think you can't find out how much your competitors spend on online advertising? With tools like Spyfu, you can.
A fixed budget: If times are tight, allocate a fixed budget. This should be what you can afford to lose.
Spend it all: The exact opposite of the previous point. Spend as much as you can on marketing. Be careful about betting the house unless you are confident in your abilities as a marketer.
The choice is yours. But what we will say is this: if you aren't spending as much on online advertising as you are on traditional forms of advertising, it is time for a rethink.
Picking the right channel
You've not got a solid understanding of the different online advertising channels and platforms. You've even worked out how much budget you have to play with.
Next, we're going to discuss how to choose the perfect channel for your product and your target market.
Part of this, will, of course, depend on your budget. There's no point focusing on Adwords if you can only afford to spend $10 per day.
But your audience and your product should also be a big influence on your chosen platform.
Let's take your product, first of all. If you are a local Bodyshop, advertising on Pinterest or Twitter isn't going to be worthwhile. In fact, advertising on anything that isn't search related, or possibly Facebook, is going to be a waste of money.
If you have a SaaS business, it may be a much better option to advertise on Twitter rather than Google or other search engines. The reason? A large portion of your target customer base will be active on the website. They also probably don't realize they want your product until they see it. That means they won't be searching for it. Twitter is also cheaper to advertise on, so your marketing budget will go further.
Just as the SaaS example demonstrates, your audience plays a big role in your decision, too. You want to advertise on the channels that your audience are using. If you are advertising your mobile game, for example, buying display ads on other games is probably a safe bet.
There is rarely one perfect channel that makes advertising on all others unnecessary. That's why it's important to learn about cross-channel advertising.
The importance of cross-channel advertising
Once you get the hang of online advertising, you are going to want to start creating cross-channel campaigns. These are advertising campaigns that promote your business across multiple channels, from Facebook to Google to YouTube. Your target customers don't just hang out in one place. That means your brand needs o be everywhere they are.
The average American consumer owns more than three devices. That means you don't have to just be on every platform they are on, you have to be on every device they use too.
When you start creating cross-channel adverts, there are a couple of things you will want to keep in mind:
Keep ads consistent where possible. Of course, you will have to vary ads depending on the platform and the device, but you should keep the core message the same
Don't spread your budget evenly. Some channels and platforms are better than others. You're probably going to want to spend more of your budget on Facebook ads than you will Pinterest ads for example.
Define a target audience and stick to it. Have a clear picture of your ideal customer in your mind and focus on targeting them across every channel.
The final word
Online advertising can bring in a huge amount of visitors to your website, but only if you start investing your time and money. Don't be put off by the number of channels and platforms. Choose one that you think fits your audience perfectly and go with it. Test, optimize and eventually, you'll start seeing some conversions.