When eCommerce retailers are looking to get their products in front of searchers online, many will default to Google Shopping. And although Google still leads the pack in overall market share, you're severely limiting yourself by not also considering Microsoft Bing Shopping ads as well.
With nearly 120 million active users and 7.2 billion monthly searches conducted in the Microsoft Search Network, there is massive potential for profitable growth for any retailer looking for it.
In terms of eCommerce product marketing, few (if any) campaign-types drive traffic and sales like Shopping campaigns. Microsoft Advertisings iteration, known simply as Product Ads, is no exception.
So let's take a look at these campaigns, and how you can get started advertising with them.
Getting Started with Microsoft Bing Shopping Campaigns

The process for getting your products live with Product Ads in Microsoft Bing is a fairly simple one, and can be made easier if you already have existing Shopping campaigns live in Google Shopping.
Before you can get a Product Ads campaign up and running, there are some vital steps that need to be taken in Microsoft Advertising.
Create A Microsoft Merchant Center Store
The first step you'll need to complete before getting your products live in Microsoft Bing Shopping is to create a store in Microsoft Merchant Center.
To do this, log into your Microsoft Advertising account and click on the Merchant Center icon. On the left side of the screen you'll see "Manage store." Click on the blue Create Store button to get started.

From here, you'll enter your store's info (i.e. URL, name, SSL checkout, etc), and verify your domain using either UET tag or Bing Webmaster Tools.
It can take up for 5 days for your new store to be approved after you've input your information. Check back each day after or look out for an email from the Microsoft Advertising team.
Create & Submit Your Product Data Feed
Once your store is approved, it's time to upload your product data feed into Microsoft Merchant Center.
Your product data feed contains all pertinent information about your products in a formatted document that Microsoft Advertising uses to present your ad in relevant search results.
If you're creating this manually you'll need to be sure that your file meets Microsoft's data requirements for approval.
To make it easier, Microsoft has a simple tool that allows you to import your existing data feed from Google (if you have one). Clicking "Import" on the top of the Microsoft Advertising screen, and select Import from Google Ads.

From there you'll enter your Google account login information and proceed with the import.
Sales & Orders Can Help Get Your Products Live In Microsoft Bing
The Sales & Orders platform is designed to make this process as efficient as possible.
Our app connects directly to your store and Merchant Center account via API and automatically creates and submits a compliant product data feed for Microsoft Shopping ads.
Additionally, if you're completely new to Microsoft Advertising, our support team can help you get everything set up.
Set Up A Microsoft Bing Shopping Campaign
Now that your Microsoft Merchant Center Store and product data feed are created and approved, it's time to build shopping campaigns for Microsoft Bing.
From the Campaigns page, click the blue "Create Campaign" button.

Next, you'll be required to set a campaign goal. For Shopping campaigns, you'll select "Sell products from your catalog."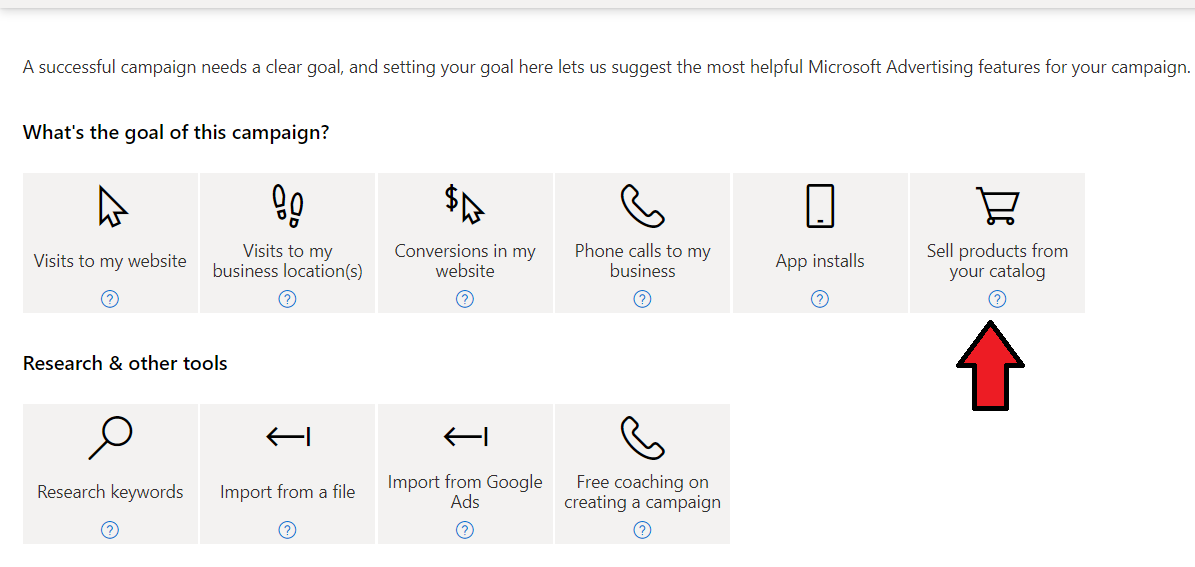 There are two different types of Shopping campaigns available in Microsoft Advertising: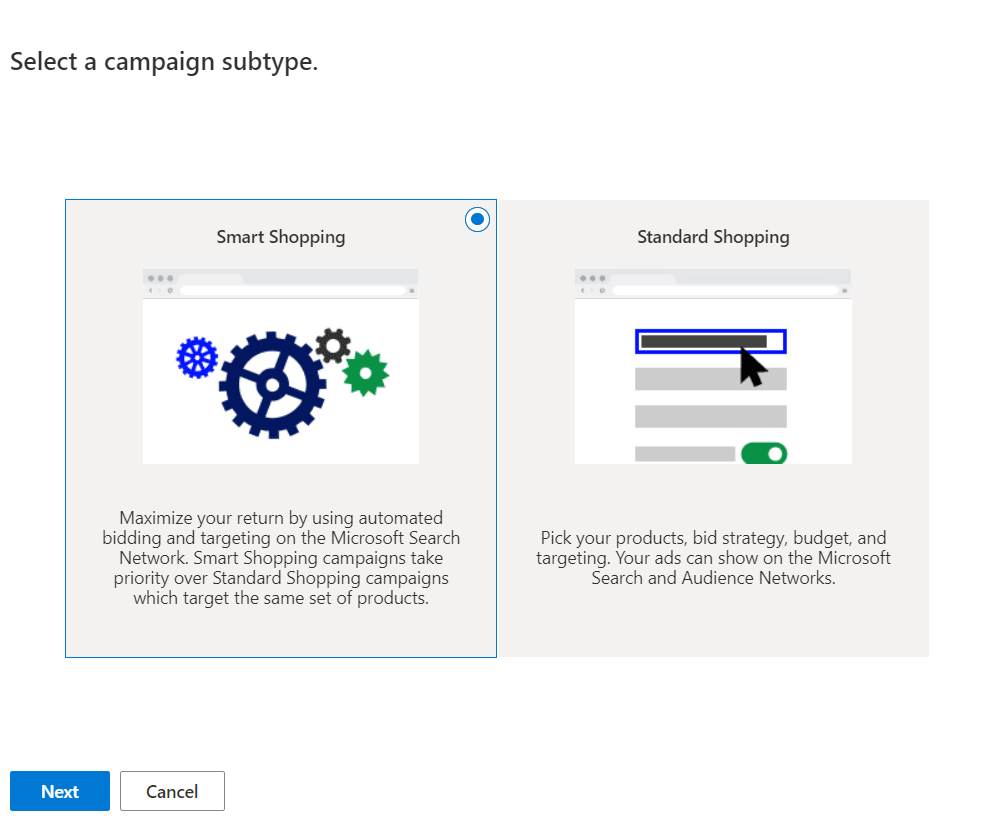 Let's break each of these down a bit further.
Microsoft Smart Shopping Campaigns
Smart Shopping campaigns run on machine learning automation in the Microsoft Search Network. This means that nearly everything about the campaign is controlled dynamically by the system using customer signals.
Though it mainly automated, you can still adjust certain aspects of the campaign, including setting a Target ROAS and adjusting your location targeting.
These campaigns are convenient for those who wear a lot of hats and perhaps don't have the time to focus too much on optimizing campaigns.
With the help of Microsoft Advertising automation, these campaigns can successfully market your products across the Audience Network.
Additionally, Microsoft offers support for importing Smart Shopping campaigns from Google.
Standard Microsoft Shopping Campaign
These are your "manual" shopping campaigns where you are making your own optimizations utilizing Microsoft or third party tools, like the Sales & Orders platform for managing Microsoft Bing Shopping ads.
With these Shopping campaigns, you have control over all aspects of the campaign, including ad scheduling, device targeting and adding negative keywords.
You are still able to incorporate some bidding automation via the Maximize Conversion Value bidding strategy in the campaign settings.
Microsoft Bing Shopping Best Practices
Now that you've gotten started with a Shopping campaign in Microsoft Bing, you'll want to focus on a some important pieces of optimization that can help you see success.
Organize Your Product Groups/Campaigns
Depending on your goals, you can structure your product groups and/or your campaigns in strategic ways that can help you better control your ad spend.
For example, you may want to consider creating separate campaigns for larger brands so you can allocate appropriate budget to them.
You could also create campaigns based on device type using device targeting settings.
Both of these, and more, can be done easily using the Sales & Orders shopping ads management platform.
Review Search Terms & Add Negative Keywords
This can only be done when managing Standard Shopping Campaigns, and is an important aspect of ongoing optimization.
Unlike Search Ads, Shopping Ads don't allow you to target specific keywords for bidding. With Shopping, you're bidding on product listings and the data associated with it is what helps it appear in relevant search results.
Search terms are defined as the words/phrases searchers used that triggered your ad. On occasion you'll see terms appear that are not very relevant to your product directly, but are still triggering your ads.
In this situation, you would add them as negative keywords. This prevents you from appearing for those words/phrases in future search results.
Optimize Your Product Data Feed
Your product data feed is a vital piece of your success in Microsoft Bing Shopping. You'll want to be sure that your feed is as full of relevant information as possible so that your ads are seen at the right times.
Some fields carry more weight than others in the feed, and with the right updates can have a fast and drastic impact on your results.
Fields, such as Product Title and Description for example, are perfect for incorporating relevant words and phrases into your data that searchers would use to find your product.
You can also add in other important information, like your products color and size, to help shoppers make a decision to click your ad.
Create Remarketing Lists
In Microsoft Advertising, you can create remarketing audiences that you can target more aggressively with ads.
In the "Tools" section at the top of the interface, find "Audiences."

From here, you can create audiences based on many different factors, including site visit, abandon cart, viewing certain pages and more.
This targeting can help to improve conversion rates and also deliver a very high ROAS.
Final Thoughts
Shopping ads in Microsoft Bing are very effective, and with over 7 billion monthly searches, there is a huge opportunity for eCommerce retailers to grow their revenue.
Getting started is easy, especially if you have campaigns already running in Google Shopping thanks to the "Import from Google Ads" tool implemented in the Microsoft Advertising Interface.
The Sales & Orders team is equipped to handle the full process, from creating the Microsoft Merchant Center Store and installing your UET Tag, to Microsoft Bing Shopping feeds and ads management tools.
Get started with a 15-day free trial today or request a demo of our tool to learn more.