E-commerce and Shopping ads are practically synonymous these days with over 60% of all clicks in Google and over 30% of all clicks in Microsoft Bing being attributed to the popular ad type.
This ever growing trend has led to a new reality in the world of e-commerce which is that it's nearly impossible to be truly successful without advertising with Shopping ads.
Many retailers are finding themselves diving into uncharted territory, not knowing where to begin preparing their products for Shopping ads in Google and Microsoft.
As with any venture it all starts with a solid foundation, and a well optimized product data feed is what you'll need to start building your Shopping ad success.
What is A Product Data Feed?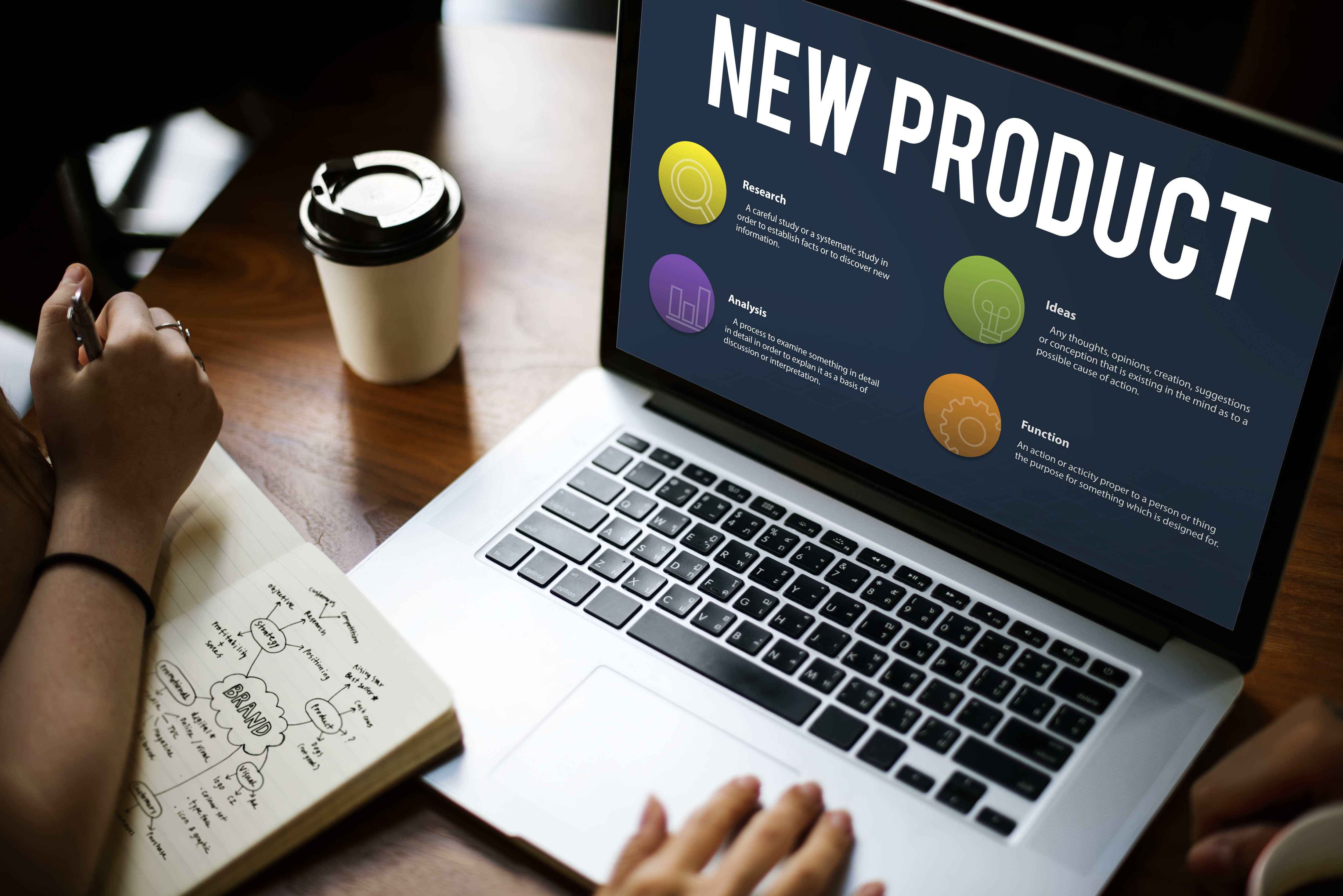 Before we jump into the nitty gritty of product data feed optimization for shopping ads, let's talk about exactly what a data feed is.
To put it simply, a data feed is the source of all information related to your products that search engines, such as Google and Microsoft, will utilize when presenting your ads in search results.
Submitting a data feed is required to run product ads, and can be submitted in several different formats including CSV, TXT and via API connection.
When creating a feed, you'll need to be mindful of the data specifications of not only the channel, but of the segment that your products fall into (i.e. apparel, electronics, food & beverage, etc.). If you don't include the required fields in your feed it will get disapproved.
How Do I Optimize My Data Feed?
Your data feed is compiled of pertinent identifying information about the products you're advertising, such as title, price, color, size, etc.
A well optimized data feed is a key building block to product ad success. Since you are literally feeding product data to the ads interface, the main focus should be on including as much relevant information as possible.
With that, there is a certain hierarchy that can't be ignored when it comes to how and which fields you optimize. Let's take a look at the top attributes that should be the focus of any product data feed optimization.
Spruce Up Your Product Titles
Optimizing your product title should be a top priority when you are reviewing or creating your product feed. Your title is one of the main identifiers used by ad interfaces to serve your product listing in relevant search results.
When properly enhanced, titles can have an immediate impact on shopping ads performance.
(The product title is the blue text)
In a search result, your title is first piece of relevant information the searcher will see about your product. This is why it is important to take extra care when setting them up.
You'll want your title to relay exactly what your product is in a way that reads well, and build your search terms right into it in a way that isn't forced.
The example layout above is great: Brand>Gender>Product Type>Color>Size>SKU
Each portion of this title helps a searcher to identify it, as well as the search engine find your product to serve its ad.
(Product title formulas by segment)
Search Engine Land conducted a case study recently, that broke products into 3 groups: one group with original out-of-the-box titles, and two with different levels of optimized title.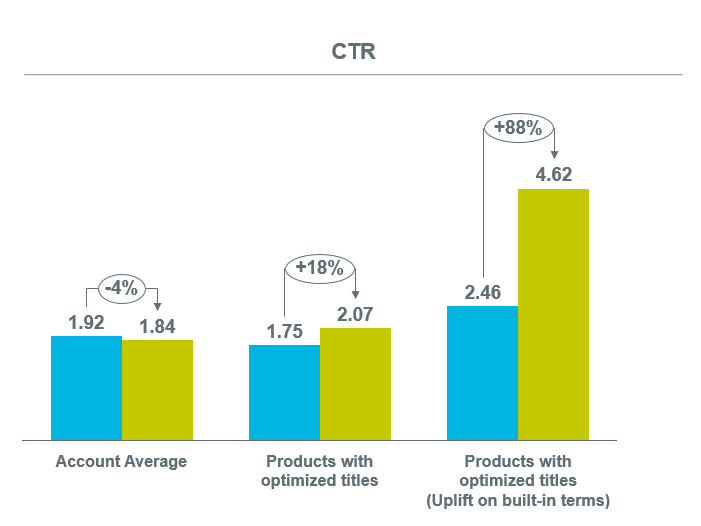 Their results found an 88% improvement of CTR when titles were optimized with relevant search terms built in. Higher CTRs translate into more traffic and more opportunities to make sales.
Product Images That Stand Out
Often overlooked, product images are an extremely valuable asset that can seal the deal in many cases, at least in terms of attracting the almighty click when listed next to the competition.
Though this is a data field in your feed, this will involve a bit of work and creativity outside of simply typing. And depending on your vertical, your strategy will be different.
When searching online, there is a lack of true understanding of the experience they'll have with a product.
Take furniture for example. A big part of purchasing a piece of furniture is picturing it in your desired space. In person, you can get a better feel for this, but in a photo it is more difficult to create the same feeling.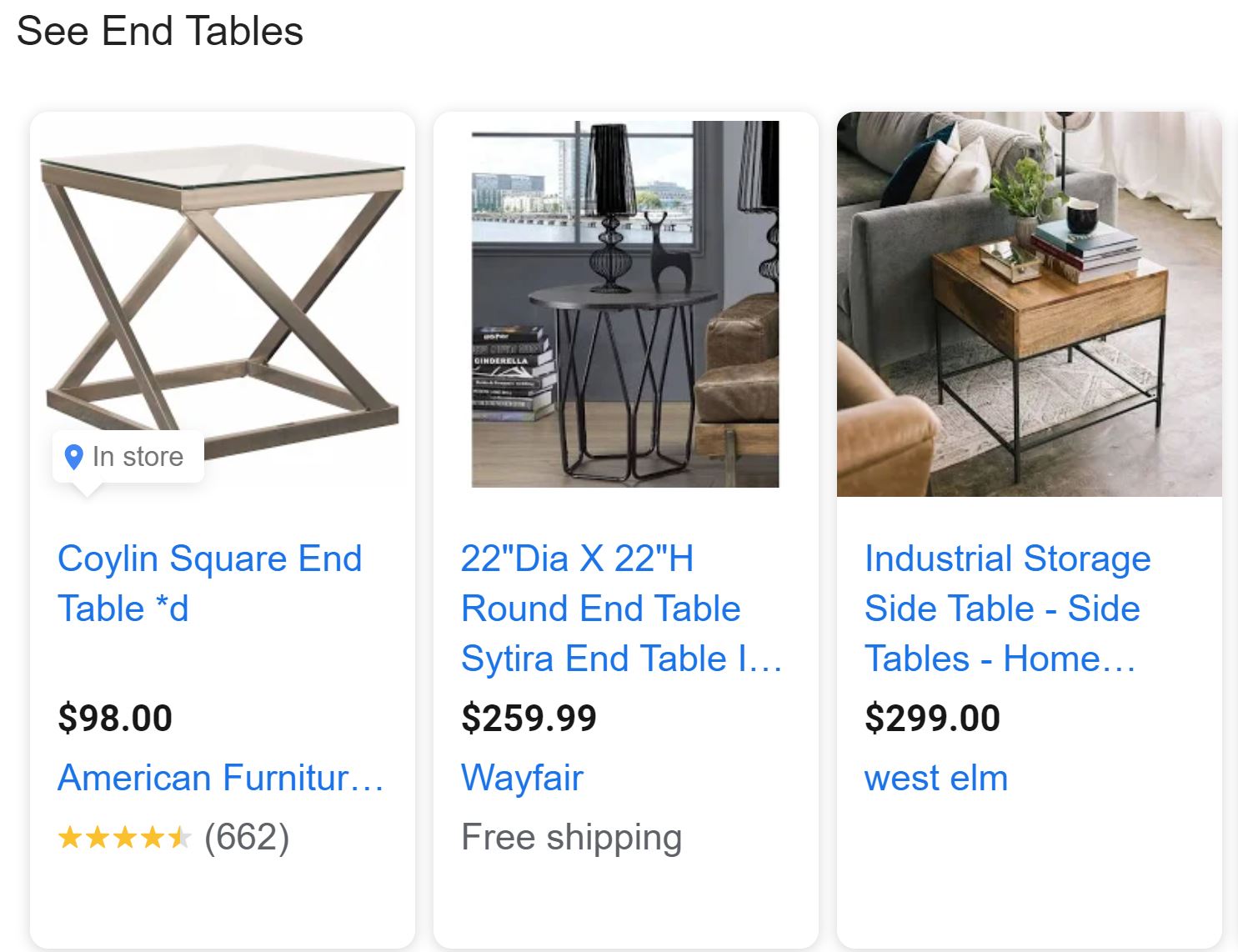 In this example, including a "lifestyle" image gives the two more expensive options the upper hand, since as a shopper you can get more of an idea of what the product may look like in your home.
Other types of products, however, work better on the plain background. Apparel, electronics, and toys/games are good examples of product types that work well on a plain color background in Shopping ad results.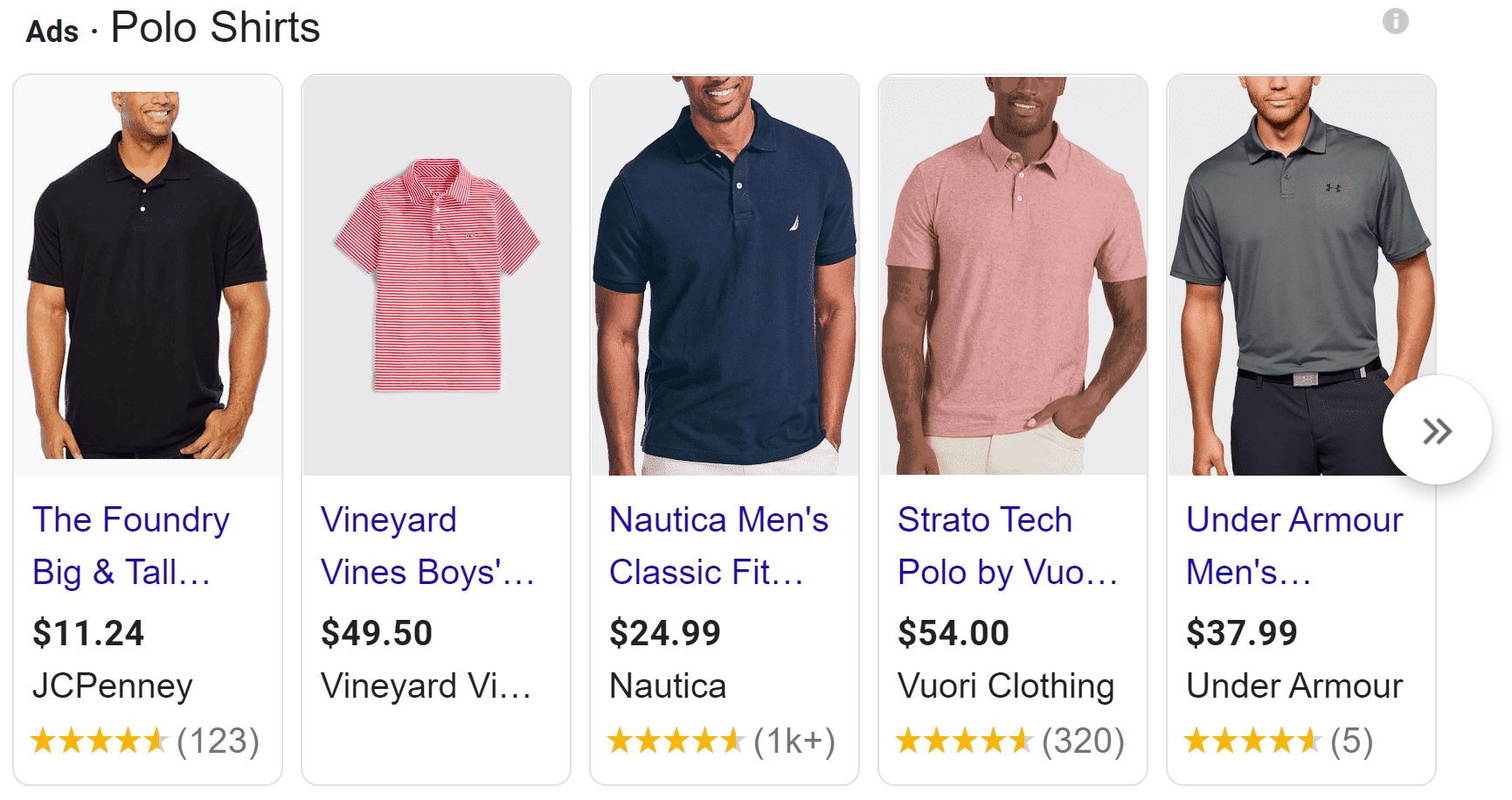 PRO TIP: Always put yourself in the customer's shoes when considering how to present your products. Think of how they will use the product and try to tailor your imagery around that experience.
Descriptions That Contain Relevant Keywords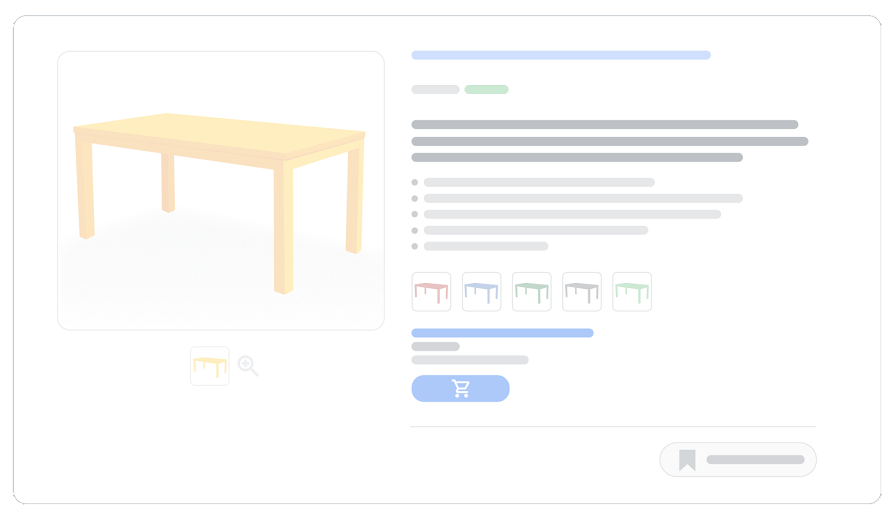 Product listings behave differently than typical search-term driven ads in many ways. The main difference is the inability to specifically target your relevant keywords and bid on positioning.
This is where your data feed comes in handy, and your product description is a great way to sneak in more of these keywords in a subtle, yet far reaching way.
Much like the product titles, you'll want to be sure your descriptions read naturally and are not just keyword stuffed for the sake of ranking. This will have the opposite effect.
With a maximum of 500 characters, use your description to accurately detail your product using as many attributes as you can.
Additionally, you should research popular keywords around the product and include them in your copy. This will further assist search engines identify your listings in the most relevant results possible.
Utilize Custom Labels
There are 5 custom label fields available in product data feeds that allow you to do exactly what you think: create your own label to apply to products.
But how does this help your performance in shopping search results? Well, it goes a bit beyond your typical feed optimization technique.
Custom labels don't have any impact on how a search engine plucks your items data from the feed to present in relevant search results.
They can, however, help you to better control your performance on the Shopping campaign level.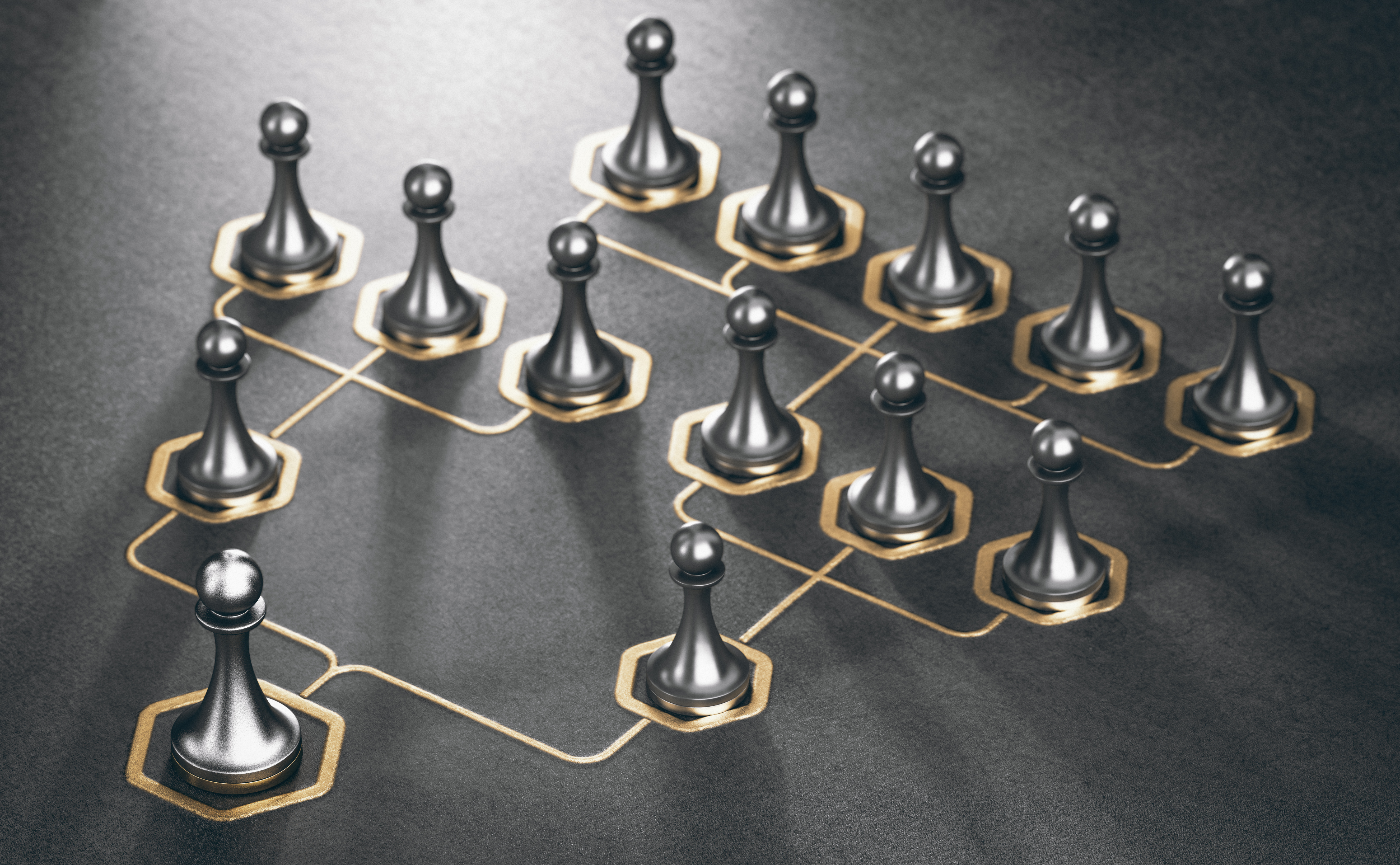 E-commerce retailers can utilize custom labels in their data feed to organize products any way they see fit. Here are some examples:
Label by margin so you can create campaigns and apply budgets accordingly
Label by seasonality so you can quickly identify products you want to advertise more aggressively throughout the year
Label by supplier to easily segment your products according to volume
Since this field is "custom" you can set it to whatever you choose without risk of disapproval. Use this to your advantage to help create campaigns that maximize your sales.
Standardize Colors In Your Feed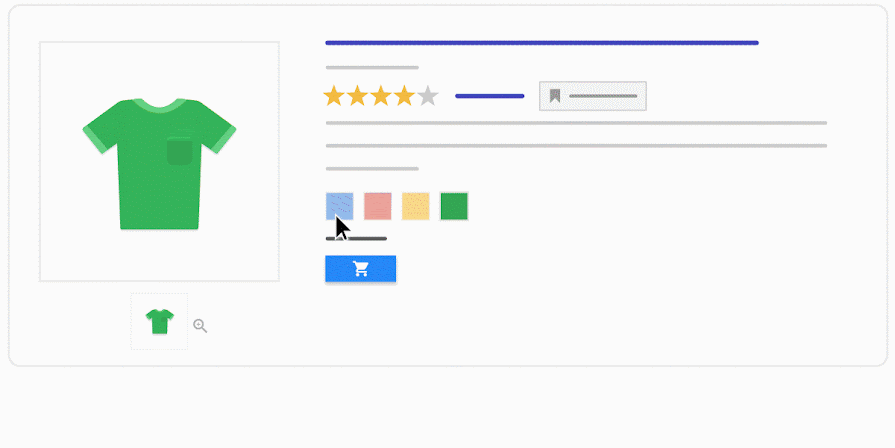 (Via Google)
When reviewing the colors that are in your feed, it's important to keep them to the standard shades i.e. red, blue, green, etc.
This will only help make it easier for searchers to find you in shopping results, as these are more commonly used expressions.
For example, a customer will more likely search for a purple shirt rather than a "deep midnight" shirt.
Additionally, you are able to submit two secondary colors with your primary color. So if you're selling blue sneakers with black and white trim you would submit the color as Blue/Black/White in your feed.
Wrapping Up
E-commerce and Shopping ads have become practically synonymous these days. This means that retailers must pay close attention to how they are set up for success for the ever-growing ad type.
Your product data is the foundation you'll need to be successful with Shopping on any ads platform, so taking some extra time optimize your product data feed will go a very long way towards helping you achieve your goals.