E-commerce is continuing to evolve on what seems like a monthly basis. And as the principle itself changes, so do the marketing strategies that drive effective results. One of these strategies is live chat, which has become the most popular method of customer service. A recent study found that 92% of shoppers said live chat was helpful for them when shopping online, and that is a number that simply can't be ignored.
Live chat opens you up to a lot of possibilities, and it further leads to valuable upsells, and re-engagement. 63% of shoppers state that they are more likely to buy again from a business that offers live chat service on its website.
Although it seems like just answering questions day in and day out, there is much more to live chat that can be leveraged by companies to grow their business.
And when you're driving increased shoppers from other marketing efforts, such as Shopping ads or email outreach, there is tremendous benefit to being there to answer any inquiries that come with the additional surge in traffic.
Here are some strategies you can quickly implement to start driving more sales from live chat.
Personalized Product Recommendations
There is no doubt in the fact that customers always love a product recommendation that is tailored according to their personal preferences. Nearly 75% of customers are instantly ready to make a purchase when they are offered a tailored recommendation, and it is very easy to incorporate this tactic into the live chat feature.
As a part of your workflow, be sure ask customers questions to gauge their likes and dislikes, and you can use this information to craft a personalized recommendation that they would be more inclined to buy. Here is a good place to implement some automation as well.
Setup Pre-Chat Surveys
This is a great way to not only gauge the wants/needs of the incoming customer, but to also practice proactive customer service, which is a highly favorable trait to have in today's e-commerce world.
In fact, 66% of consumers agree that they have a more favorable view of a brand if they proactively engage with them.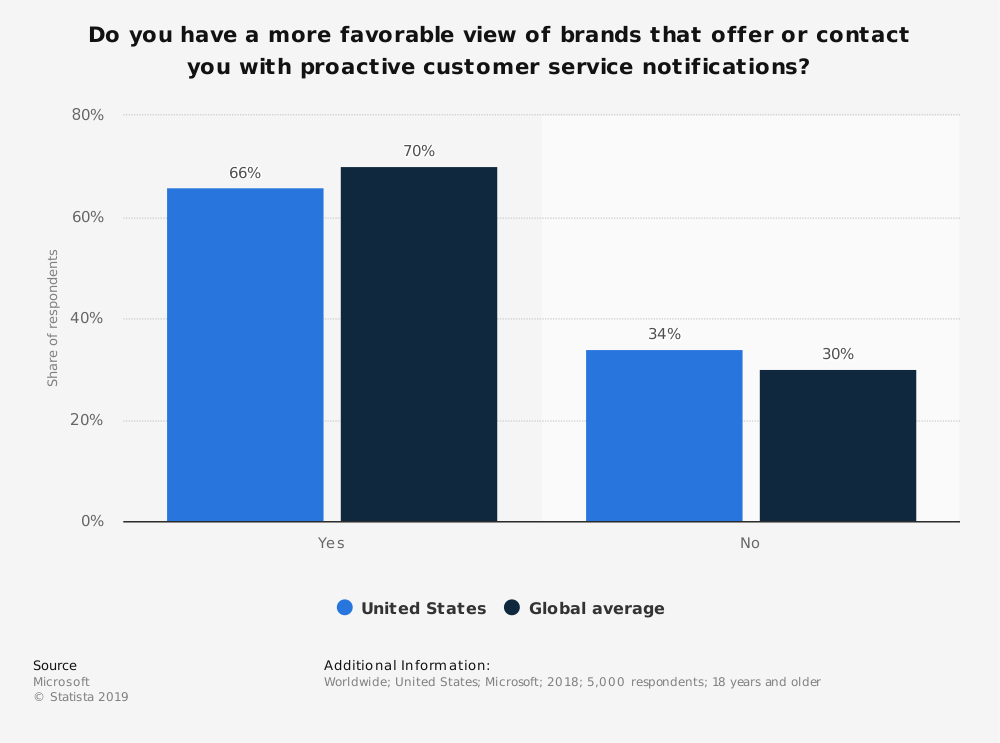 Here are a few simple fields you can setup to get started:
Name
Email
Phone number
Product(s) you're interested in
Comments/concerns
By setting these up you can come into the conversation with valuable information that can help you act as a guide rather than fishing for information. This saves you, and more importantly the customer, time.
Ask Questions Based On User Behavior
A good way to optimize your website conversion rates is to setup triggers that automatically deliver messages based on a user fulfilling certain behavior criteria.
For example, if a user is a repeat visitor on a certain product you can engage them with a question about exactly what they're looking for, or you could take it a step further and offer a discount code.
Investing in proactive chat capabilities has been shown to produce an ROI of 105%, according to an in-depth Forrester research study.
Identify Common Issues To Reduce Response Times
When it comes to live chat, there are some questions and queries that would be asked more frequently than others. They can be about delivery charges, return policies, discounts, payment methods, etc. Normally, these are the questions that people ask about, mainly because they can't seem to find the answer to it on your website or the content that you have provided them with.
Therefore, your live chat agents should be able to ask questions from the customers that would help them identify the pain points that are experienced the most. This way, you can tailor your content or add instructional videos to address those issues and enhance the customer experience.
You can also set up automated responses to certain common questions as well. This can help you to continue helping customers even if your agents are offline.
Tailored Greetings By Category
Another way in which you can leverage live chat to attract your customers is to make use of tailored greetings, that too land at the right time. The key is to add custom messages according to the product categories being browsed by the customer at that time.
For example, if a customer is exploring golf clubs, your live chat box will be triggered to greet them with a custom message like, "Can I help you buy the best golf club today?"
This accelerates the process of moving your customer further into the sales funnel, and it will also help them select a suitable product much faster. Moreover, it would increase the likelihood of you recording a new sale.
Be Present on Checkout Pages
The checkout page is an essential component of your sales funnel, which is why it should be completely optimized to ensure that customers don't encounter friction as they progress to the order confirmation page. While you may think that your checkout page has no issues, it can serve as a valuable exercise to review checkout/cart abandonment rates more realistic view.
Generally, the abandonment rate for online stores is between 60-80%, mainly due to complex checkout processes or slow loading times.
To improve this, try adding your live chat feature on the checkout page, so that customers can ask any questions they may have, and also process their order instead of leaving it.
However, you'll want to ensure that the checkout live chat page doesn't pop out on its own, otherwise it can drive customers away from your website and make you appear over zealous.
Round-the-Clock Support
Live chat is a wonderful feature that helps you connect with your customers and address their queries in real-time, and it also allows a dedicated agent to cater to multiple customers at the same time. This is a feature that you can't avail through phone support.
Moreover, you can also take your customer service up a notch by introducing round-the-clock support, which you also extend to weekends and holidays.
Most of your customers are working during your operating hours, so they can only do their shopping on nights and weekends. Therefore, if you give them the opportunity to reach out to you during those hours, you have the potential to increase your sales.
If you can't have a person manning your live chat, you can also implement some automation here, and set up some bot responses to common queries (as seen above). At the very least, you can offer information and collect customer information for follow up.
Wrapping Up
Customer service is the backbone of any successful business, and live chat is one of the pillars that helps you deliver a quality experience for your customers, while also generating new sales opportunities.
By leveraging live chat, you can streamline your customer service operations, while also reducing the load of phone calls and the time it takes to give a response.
Personalized, human connections can make a big difference in user perception of your store.