Two new changes for Shopping ads – one already available and another on the way – just recently came to light.
On one hand, a more public announcement today released by Google will be bringing Shopping ads into Gmail when retailers opt into the network in their Shopping campaign settings.
As well, a lesser known "beta" for Merchant Center has become available for select retailers – Price Competitiveness.
Price Competitiveness In Merchant Center – Market Insights
Beginning with the latter – Merchant Center has launched a new Program called Market Insights which, once enabled, allows retailers to access the new Price Competitiveness tool.
Not to be confused with repricing, this new feature allows retailers to track their pricing in their feed (and subsequently their Shopping ads) against benchmarks aggregated by Google.
It is important to note that not all retailers may see the program or the option available in their Merchant Center accounts as Google seems to be rolling this out quite slowly
The program can currently be enabled in two ways within Merchant Center. For those who have been enabled for the beta product, you will find the new feature under the Growth tab in your account.
Through this method, you'll be directed to enable the Market Insights program in the same steps:
You may also enable the Market Insights program under Manage programs, although it is unknown at this point if the Price competitiveness tool will become available immediately for your account:
Once enabled, you'll be able to access the Price competitiveness features which include:
Product-level Benchmarking: How your price compares to an aggregate of other retailers selling the same products on Shopping ads
Over / Under / Meet Analysis: Where you are may be more, less, or the same in your pricing against other retailers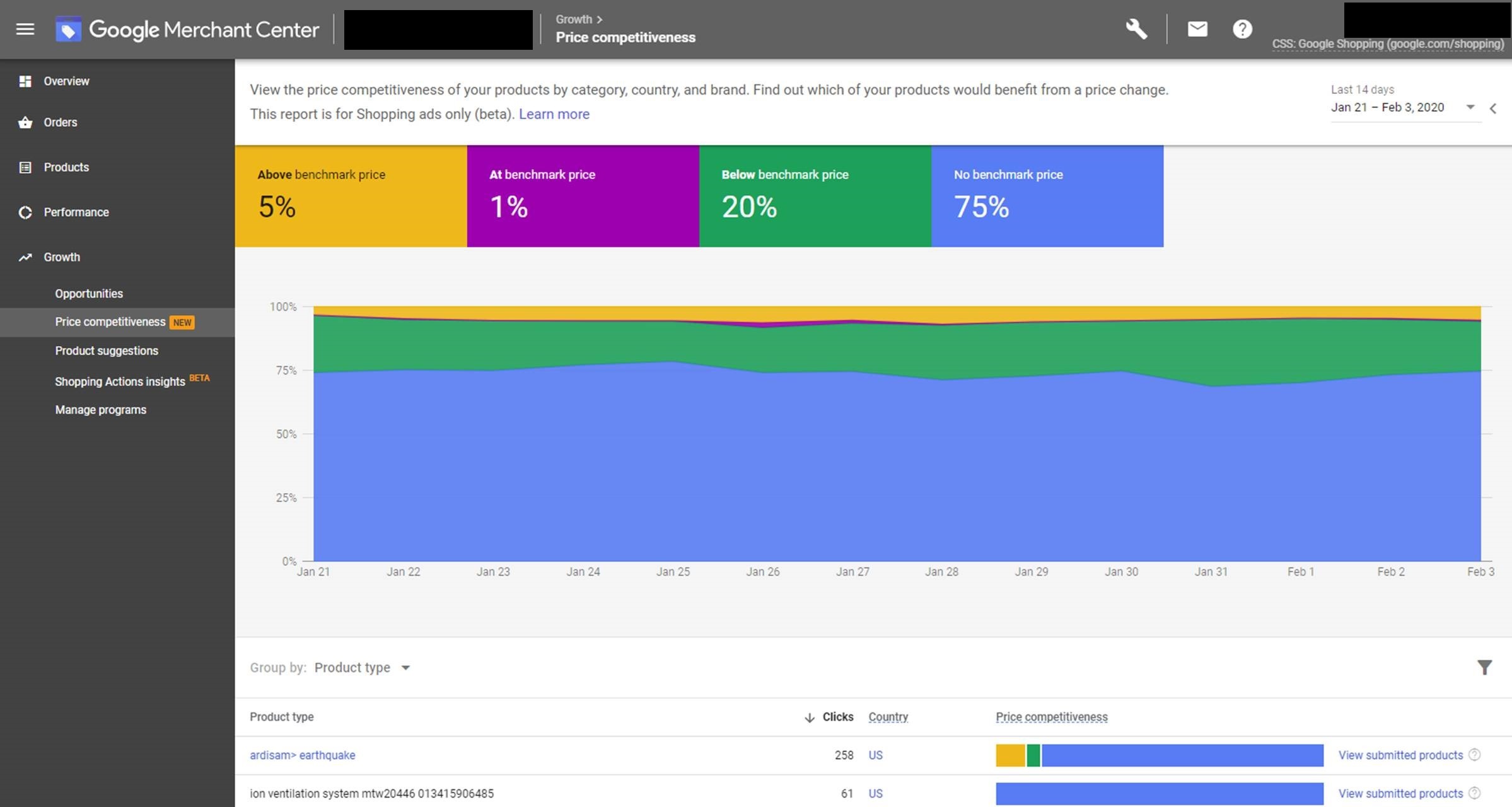 It is from here that you'll also be able to access samplings of products matching price competitiveness reports based on different groups such as by Product Type. In the sampling views, you can also export the list of products being analyzed.
Shopping Ads in Gmail
As of March 4, 2020 Shopping ads and Showcase Shopping ads will be eligible to appear on Gmail
and will be reported under the Google Display Network.
Your standard Shopping campaigns will be automatically enabled to run on Gmail, but only if they are opted into "YouTube, Gmail and Discover".
When creating new campaigns in Google Ads, the Targeting > Networks section allows you to enable for this Network.
When editing an existing campaign under Settings, you'll find the same Network enable and disable options:
As with any new display option or network inclusion for a campaign/ad type, closely monitoring data after this has officially launched will determine if this Network is the right fit for different retailers.