As we have just closed out the first quarter of 2021, our entire team here at S&O is immensely proud and excited to have been elevated to Elite Partner status with Microsoft Advertising.
Through our partnership with Microsoft Advertising we have been able to help thousands of ecommerce businesses of all shapes and sizes grow as a result of the dedication and unwavering effort we've put in to supporting them with product feeds, Shopping campaigns, and Search campaigns.
Now, being named an Elite Partner, we have taken yet another giant leap forward as a leader in our industry.
The Journey
Nearly three years ago we launched the very first parts of what was then Bing Ads as components to our now 4-times award-winning ecommerce marketing platform.
Between June 2018 and September 2018, our entire team here at S&O came together with our Microsoft Advertising partner team to introduce both product feed management and Shopping campaign management to the thousands of ecommerce stores leveraging our software.
Following that very busy year, Sales & Orders was named the Bing Ads Channel Partner Breakout Start of the Year in 2019.
Since then, we've continued to partner very closely with Microsoft Advertising in bringing more innovative integrations into our tech stack.
In October 2020 we started out with incorporating fast-tracked onboarding for ecommerce merchants onto Microsoft Advertising and Microsoft Merchant Center for their product feeds. Then, in January 2021, we introduced our new Performance Estimator into the Microsoft Ads Shopping Campaign builder in Sales & Orders – making it easier for merchants to gauge their potential success with these ads.
It was also in 2021 that I myself had the utmost honor to have been named the 2020 Microsoft Advertising Trailblazer of the Year (Americas) during the Microsoft Advertising Partner Awards which was held as a virtual event in February.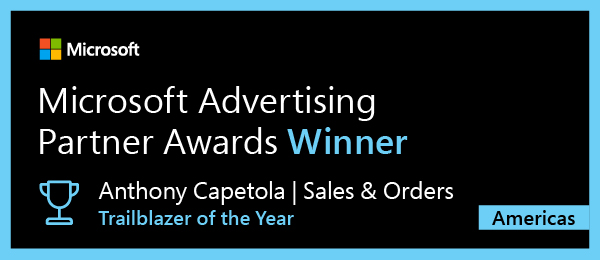 To say that it has been an exciting few years here at S&O is a vast understatement for sure!
The Road Ahead
As we continue on throughout 2021 and into the next year, we are ever-conscious of our incredible partnership with Microsoft Advertising – one that's cornerstone has been all about helping ecommerce business owners succeed online.
Today, we are recognized in that effort now as the newest Channel Partner to join the ranks of Elite Partners that came before us:

Together, with our partner team, we continue to explore bringing new innovations and opportunities tied to Microsoft Advertising and how these various features and products can continue to spur on growth for ecommerce merchants across the globe.