With the coronavirus pandemic quite literally reshaping the retail landscape, both offline and on, Google has announced that they are accelerating their plans to allow for free product listings on Google Shopping.
As I read the article title read "It's now free to sell on Google", the cheer and applause throughout the US (at least for the moment) almost seemed audible.
It is a very exciting announcement that is sure to help online retailers – and especially more exciting as Sales & Orders is a vital gateway for merchants on any e-commerce platform to gain access to free listings – whether alongside paid Shopping ads or just as is.
Surfaces across Google
Full transparency here: The aspect of "free listings" on Google is actually not all that new. In fact, Google began rolling out "organic product listings" back in February of 2019.
The program is now better known as "Surfaces across Google," a program that any retailer can enable directly in Google Merchant Center.
Earlier this year, Surfaces across Google got even better for apparel and accessories merchants with some enhancements that improved the experience on the search engine.
So, what changed this time around?
Per the many questions we've fielded on this, we wanted to emphasize that this IS NOT free advertising or free Shopping ads. As long as you enable Surfaces across Google within Merchant Center and have approved products, then your products are simply ELIGIBLE to appear in the Shopping tab on Google without having to pay for clicks through Google Ads campaigns.
Additionally, Surfaces across Google is currently only available in the US and India – until it is expanded to other territories merchants in territories where it is not yet available should not expect to see any changes or be able to access the program.
The key takeaway here, for any merchant – regardless of if they have Surfaces across Google enabled or not – is that the free product listings have been expanded in positioning.
Next week, the "Shopping" tab on Google search is consist primarily of the free listings.
Additionally, Surfaces across Google was initially only available in the United States and India. This announcement indicates that a worldwide roll out is to expected now, spurred on by the looming threat of the coronavirus pandemic.
Per Bill Ready, President of Commerce at Google:
"In light of these challenges, we're advancing our plans to make it free for merchants to sell on Google. Beginning next week, search results on the Google Shopping tab will consist primarily of free product listings, helping merchants better connect with consumers, regardless of whether they advertise on Google. With hundreds of millions of shopping searches on Google each day, we know that many retailers have the items people need in stock and ready to ship, but are less discoverable online."
Below, courtesy of Google, is a shot of the Shopping tab showing the separation of paid listings on mobile and the new free listings below them.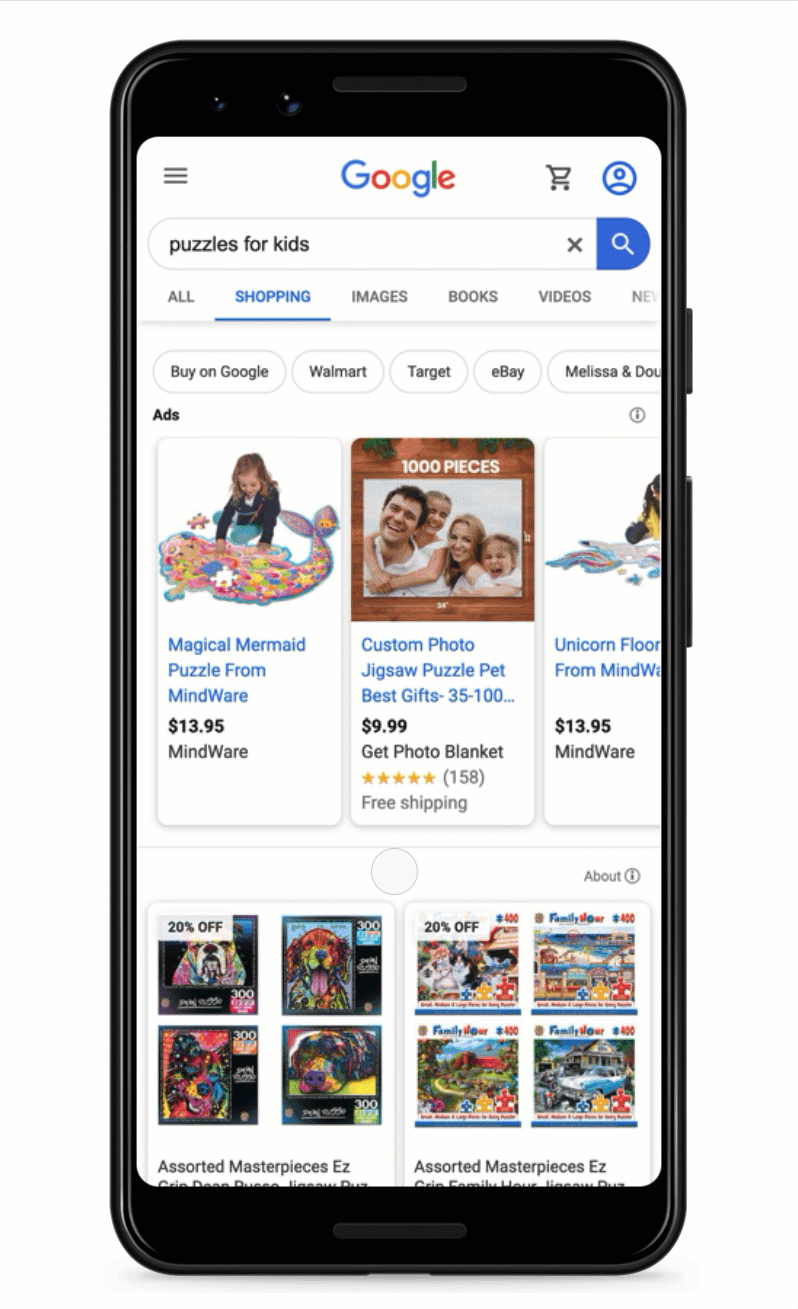 Great, how do I get started?
Below is a full step by step setup walkthrough we had previously posted back in January:
Just as you would for Shopping ads and Shopping Actions, you're going to need a product feed in Merchant Center to be able to participate in the program.
For anyone on BigCommerce, Shopify, or Magento 2 – you can leverage our app to produce a feed for free for up to 10,000 products:
While many retailers likely have their feeds already enabled for Surfaces across Google, anyone who does not can enable it by logging into their Merchant Center accounts, navigating to Manage programs and then GET STARTED with Surfaces across Google.
Merchant Center will request specific information from you and then you should eventually become approved for the program.
Just as with other programs like Shopping ads, Merchant Center will also provide diagnostics and approval statuses for your products specifically for Surfaces across Google:
Additionally, retailers will be able utilize the Performance tab within Merchant Center to track clicks and other metrics for their free listings: