What were once named Surfaces across Google and Shopping Actions, respectively, have now been given their new official distinctions in Google Merchant Center.
On December 14th, Google rolled out a notice stating that these two programs would finally receive their renaming based on core changes Google has made this year.
From within Merchant Center, under Growth, and then Manage programs – retailers and advertisers should now see the updates: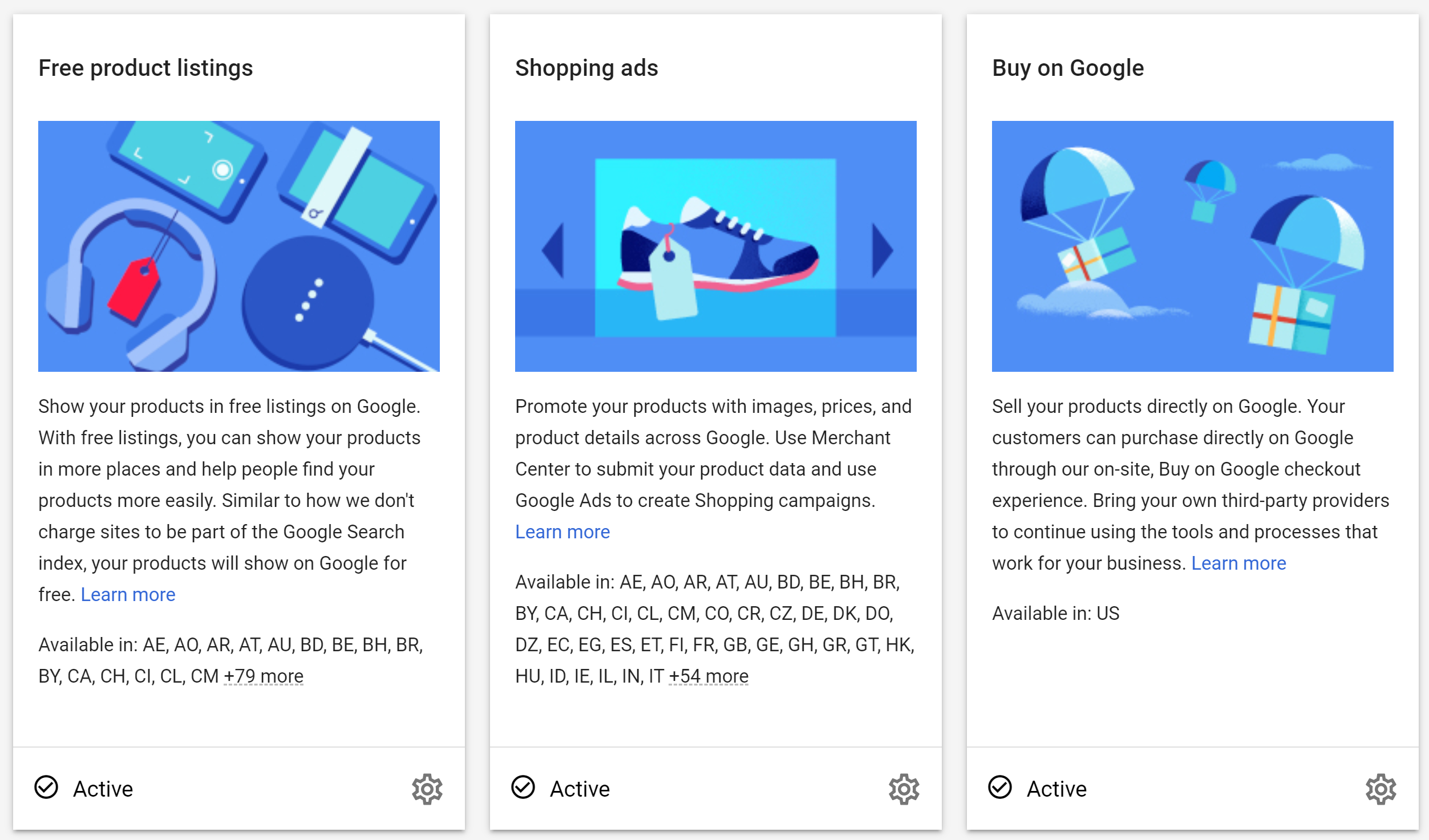 This now comes months after Google advanced its efforts to better support ecommerce merchants globally.
Some Recent Background
In October 2020 it was announced that Free product listings – which now comprise the majority of listings on both the Shopping tab on Google, and the personalized Google Shopping experience – would expand beyond its original US-only reach to countries across Europe, Asia, and Latin America.
Back in July 2020, Google officially removed commission fees for Shopping Actions – what is now Buy on Google – making it essentially free for merchants to list and sell products on the native checkout experience.
At the same time, Buy on Google was actually shut down to new merchant onboarding as Google began to revamp the program. A waitlist was added for merchants to request access while merchants on the original 'Shopping Actions' program were slowly rolled into the new format.
Although we saw the program really begin to "re-open" in late September, net new merchant onboarding has still been a slow process. We expect that early to mid 2021 could bring about increased adoption.
Just a Name Change
Nothing else in this announcement actually changes the programs themselves. Its simply a name change.
Sales & Orders officially became one of only a select few Buy on Google partners back in August 2020 – we currently support order syncing from Merchant Center and back to stores built on either BigCommerce or Shopify.
Just as with Shopping ads, both Free product listings and Buy on Google require merchants to submit and maintain a product feed to Google Merchant Center.
Free product listings direct would-be shoppers back to one's ecommerce website while Buy on Google is a native checkout experience directly on Google which offers shoppers a Google Guarantee of buyer protections.
Its the ideal way to round out an insane year of changes for ecommerce merchants leveraging Google to reach more shoppers and increase sales. A simple name change.
What's next? Only time will tell!